Watch Tesla Model X earn 5-star crash rating across the board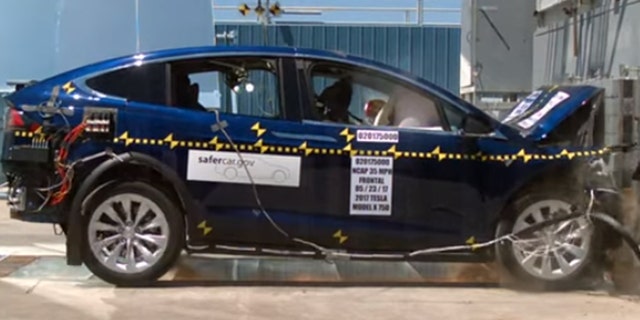 NEWYou can now listen to Fox News articles!
The Tesla Model X has received a five-star rating in all categories and sub-categories of NHTSA crash testing. The manufacturer says the Model X is the first SUV to reach these ratings, and that the key to its high score is a low center of gravity for an SUV, made possible by the rigid battery pack mounted under the vehicle's floor. Due to this, the Model X has the lowest rollover probability of any SUV.
The videos are interesting to watch, especially the pole impact clip. The Model X hits the pole directly sideways, so it impacts the driver door: the gullwing doors manage to stay largely closed despite the side-on hit. The pole impact test is done at 20 mph, while the frontal collision is tested at 35 mph.
Tesla says the occupants of a Model X have a 93 percent probability of walking away from a serious crash without a serious injury. Of all the cars NHTSA has tested, that probability is second only to the Model S, tested a few years ago.