Video captures 180 mph crash for Loris Baz in MotoGP test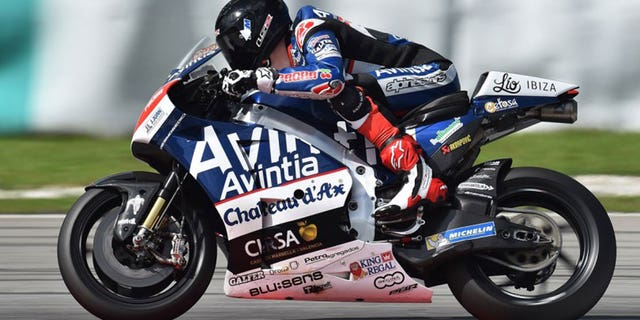 Avintia Racing's Loris Baz was able to walk away from a scary crash at Sepang International Circuit on Tuesday morning after his rear tire blew at 180 mph during a MotoGP preseason test:
The test session was stopped for over an hour, and an investigation into the cause of the incident is underway. Avintia found no issues with the bike and added that they'd followed their Michelin engineer's tire recommendations.
Since Baz had been running on the soft rear tire, Michelin removed the compound for the rest of the session and so the remaining laps were carried out on hard tires. Baz was able to get back out and finish the test.
"The start of the day was good," said Baz. "We used the soft tire to try to improve the lap times and, although the lap was not incredible, we were able to improve the lap time from yesterday. But then we had a problem with the rear tire and I crashed out at 290 km/h (180 mph) and my bike was destroyed. Fortunately I was unhurt, but you always loose energy after this kind of accident, because even I you don't have anything serious, you feel all your muscles like if you have been training during 20 hours. My mechanics made a great job to put the bike back on track for the last two hours. It was not bad, but I felt a little bit tired riding the bike and I didn't want to push and crash again. But I matched the same lap time from yesterday testing some suspension parts that I didn't like too much."
The 23-year-old French rider is in his second season of MotoGP, with his best finish of fourth coming at Misano last year.