Victory Octane musclebike sets record for world's longest burnout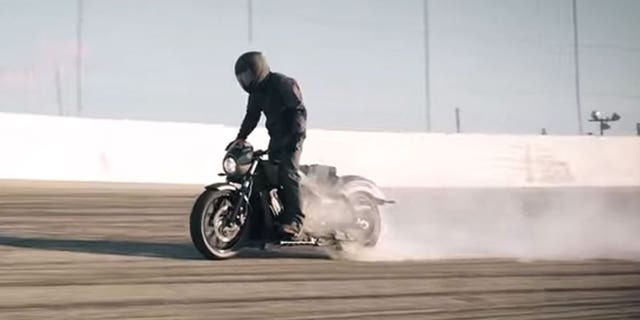 Victory Motorcycles has claimed a very unique victory.
It brought one of its new high performance Octane cruisers, and some spare tires, to Orlando Speed World to set a Guinness record for world's longest burnout.
With its 104 horsepower 1200cc V-Twin, the Octane is the most powerful bike Victory has ever built. In a straight line it's good for a 12-second quarter-mile sprint, but that's not nearly long enough for a record, which Guinness said had to be at least two miles. So instead of using the facility's drag strip, they hit the adjacent 3/8th-mile oval track.
After watching fellow stunt driver Tony Carbajal take a shot at a slow run that came up short, Joe Dryden hopped on, shifted into second gear, got the rubber smoking, and worked the throttle and front brake for nearly six laps at a blistering pace, setting a mark of 2.23 miles as the rear tire finally called it quits.
The record was announced in conjunction with the Daytona Bike Week event, where the Octane made its official launch at a starting price of $10,499.
Unfortunately, only two tires are included.
----------
Polaris Slingshot is the talk of the sports world