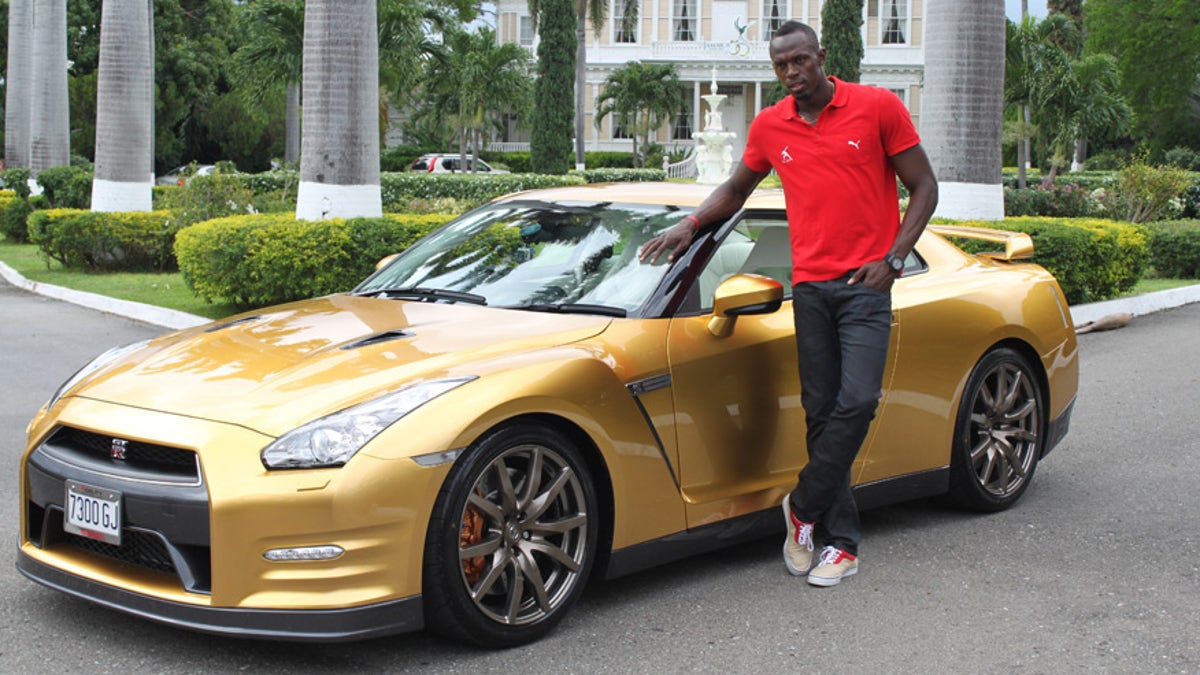 When you are the fastest man in the world, it makes sense you would like fast cars.
As if going for three 100m gold medals in three successive Olympic Games wasn't enough, Usain Bolt is trying to achieve another triple — he wants a third Nissan GT-R.
The genuine car enthusiast first fell in love with the car after fellow Jamaican athlete Asafa Powell told him to look at the model.
"I checked it out and it was just the ultimate car. So I got one," he told Sun Motors.
"Now I've got two. My old black one and a gold one, for special occasions. There's two spaces in my garage and I park it in the middle."
The golden GT-R was gifted to Bolt after his triple gold medal performance at London 2012.
Bolt said Nissan let him style the ride, although he has a pretty solid regret with his decision.
"The worst thing I did was get a white interior," he said.
"I would not advise anybody to get a white interior (laughs). It looks nice but it stains. It's a task to stay clean. It's cool though."
One of the most troubling spills for Bolt was a Gatorade bottle, which he said "took days" to clean.
Although, the gold medallist said that is not the worst spill he has had.
"One time, this girl threw up in the back of my BMW and did not tell me," he said.
"The guys were washing the cars a few days later, popped it open and it was like, 'Yo, why does your car smell like this?' I hated her so much."
As a self-confessed lover of pushing the limit of the car, Bolt said he once tried to see if he could get his legs insured.
"I remember we went to the insurance company and I was like, 'How much?'," he said.
Bolt said at one point, the number was something million dollars a year.
"They tell you that you cannot do this, you cannot do that. Anything to avoid paying you. So I was like, 'It's not worth it. Save that money. At least you have that money'."
The sprinter is no stranger to accidents having less than desirable luck in his BMW M3s.
"I had a few accidents in M3s … The first accident was just a freak accident. I don't know exactly what happened," he said. "I rolled that one. Three times."
Bolt said he was barefoot during the accident, but was lucky to escape rather unscathed.
"You feel more in touch with the pedals when you drive barefoot," he said.
"[I didn't cut my feet] It was prickles. It wasn't major serious."
Bolt said the second accident in a BMW M3 was even less serious.
"I just came around the corner, the road was oily and the back went out and I overcorrected and swung around and I hit the rail. I felt bad about that one actually because I'm better than that."
USAIN BOLT CAR FACTS
CARS OWNED:
Range Rover Autobiography, Ford Raptor, Subaru Impreza and the two GT-Rs
FIRST CAR:
Honda Accord automatic he owned for three weeks before someone crashed into the side and wrote it off.
DREAM CAR:
Lamborghini Aventador, the GT-R and the Shelby Mustang from Gone In Sixty Seconds.
PERFECT ROAD TRIP
Listening to some reggae music, driving in Italy on a twisty road in a GT-R,