Troopers suspended, NFL star implicated in 'Death Race 2012' on New Jersey highway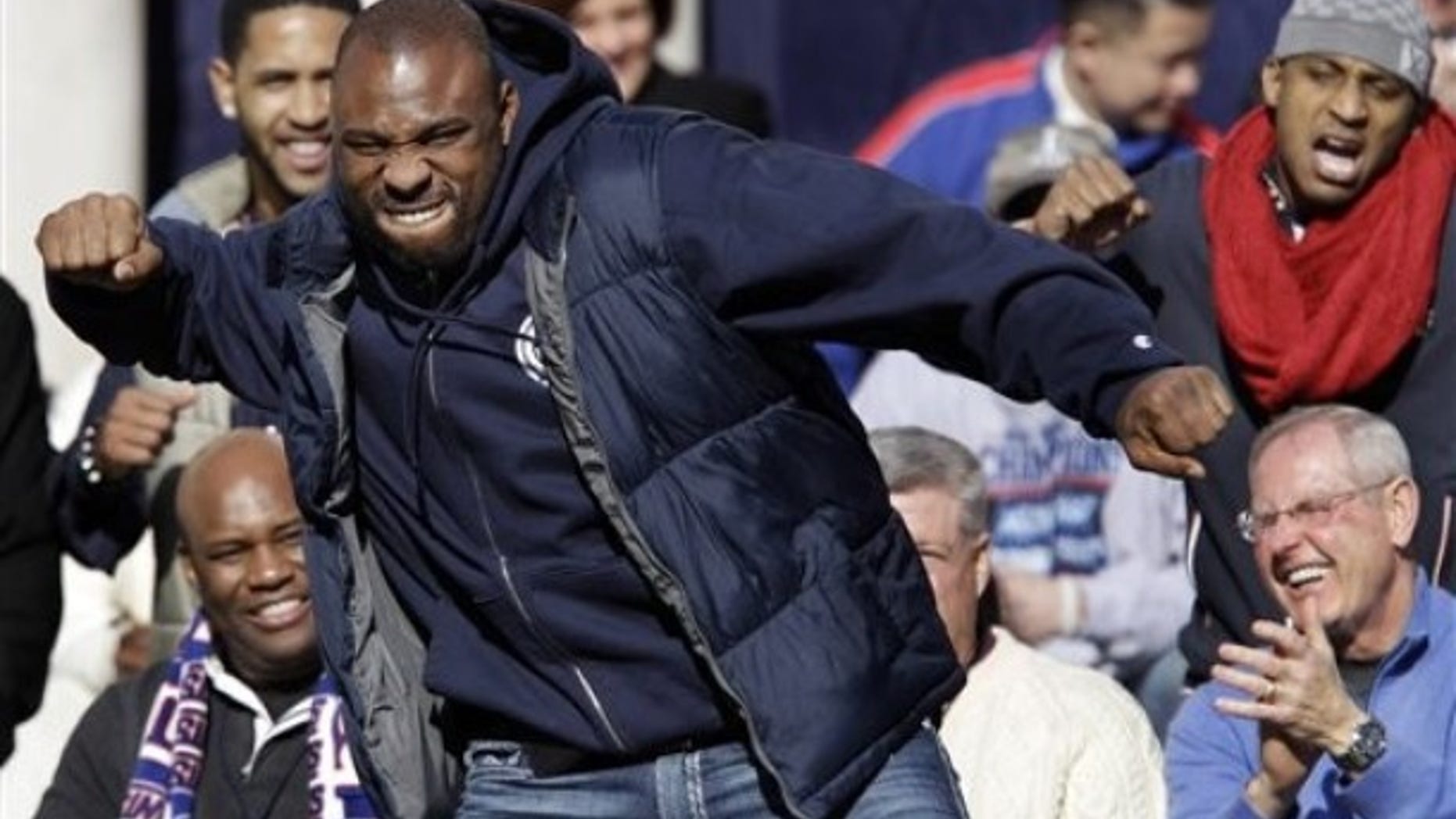 The New Jersey state police reportedly have suspended two troopers and reassigned a station commander as part of the investigation into a high-speed sports car trip involving San Francisco 49ers running back Brandon Jacobs.
It has been dubbed "Death Race 2012": The two state police troopers led a group of dozens of exotic sports cars on a trip to Atlantic City down the Garden State Parkway at speeds exceeding 100 mph, the Star-Ledger of Newark reported.
Citing complaints filed with the state, the newspaper says that the high-speed convoy was spotted tearing down the southbound lanes of the toll road on March 30.
Witnesses told the newspaper that the police cars were driving at the front and rear of the 25-to-30-car caravan with their emergency lights flashing. The collection of Porsches, Lamborghinis, Ferraris and other sports cars all reportedly had their license plates covered with black tape, a $100 fine in New Jersey.
According to the Star-Ledger, many drivers struggled to get out of the way of the oncoming cars, with one elderly driver nearly ending up in a ditch.
An amateur video from 2010 posted online appears to show state police escorting the sport cars driving in a caravan down Garden State Parkway as the driver filming tries to keep up.
The newspaper reported Monday night that the troopers suspended were Sgt. 1st Class Nadir Nassry and Trooper Joseph Ventrella, part of the tactical patrol unit.
A spokesman for New Jersey Gov. Chris Christie told the newspaper that authorities will take swift action once the investigation is complete, adding that "this is a very serious and disturbing matter for a couple of reasons, but particularly in terms of the disregard for public safety by all those allegedly involved."
According to the Star-Ledger, a source with knowledge of the trip said that Jacobs was among those in the caravan. The agent to the former New York Giant told the newspaper, "Brandon was part of a group that went down to Atlantic City on March 30," but declined to comment further.
Last October, when talking to Yahoo Sports on his dissatisfaction with the Giants organization, Jacobs told the news outlet: "I've got nothing positive to say. The most positive thing: I got family at home and I got a fast a-- car being delivered on Tuesday. That's it."
A well-known car enthusiast, Jacobs owns several exotic machines, including a Nissan GT-R, which has a top speed of 193 mph, but that Jacobs had modified to go even faster.
In a profile in Rides Magazine, also published in October, Jacobs said, "I like the GT-R for during the day, but most of the time you want to have some highway in front of you to get some a'ight speeds -- nothing crazy, but some a'ight speeds."
The two-time Super Bowl Champ is a member of the Driving Force Club, a group of exotic car owners that organizes high-speed driving events at private venues and, according to the group's website, created the "club for all car fanatics with a spice of racing and adrenalin rush in their hearts. To make this place more enjoyable, we decided to restrict access for anonymous guests -- if you want to become a member and actively participate in our events, we need to get to know you better -- think of it as an introduction to a big but close-knit family."
It is not yet known if other members of the club were involved in the March 30 incident.