Toyota pickup nearly rolls over during simple swerve test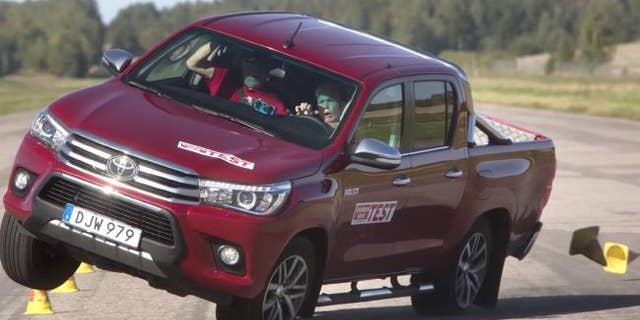 The safety of Australia's top-selling ute, the Toyota HiLux, has been called into question after it nearly rolled over during a routine swerve test by reputable Swedish magazine Teknikens Varld.
A disturbing video shows the latest Toyota HiLux went up on two wheels, nearly flipping on its side after a simple swerve at 60kmh — also known as a "moose test" because it simulates what happens when a driver takes sudden evasive action.
The worst affected model was the flagship Toyota HiLux SR5, which nearly rolled except for the quick thinking of the expert driver.
The middle-of-the-range Toyota HiLux on smaller wheels and tires also went up on two wheels in the same maneuver.
Every other ute tested at the same or higher speeds passed the test.
The magazine exposed the same flaw in the previous generation Toyota HiLux in 2007.
More automotive news from News.com.au
When a Mercedes failed this test in the 1990s it was withdrawn from sale until a fix could be established.
Teknikens Varld journalist Linus Projzt said the Toyota HiLux demonstrated "extremely dangerous behaviour".
"Aint good enough, not even close," he said, holding a copy of the 2007 magazine exposing the previous model Toyota HiLux's safety flaw.
News Corp Australia sent the following questions to Toyota: Does Toyota dispute the test? Is Toyota planning to review the HiLux suspension or steering? Should customers be concerned?
A statement from Toyota Australia said: "Toyota takes the report published by the Swedish automobile magazine, Teknikens Värld, on this emergency-avoidance test seriously and Toyota is currently in discussions with the publication to understand their test results in more detail."
Toyota said local engineers undertook "an unprecedented six-year program to develop and evaluate the model specifically for Australian conditions (covering) 650,000km of real world driving here in Australia."
The Toyota HiLux has been Australia's top-selling workhorse for the past three decades and has been among the Top Three most popular cars overall for the past five years.
The Toyota HiLux is also the best selling vehicle outright in Queensland, West Australia and the Northern Territory.