Toyota Hybrid to Race at Le Mans 24 Hours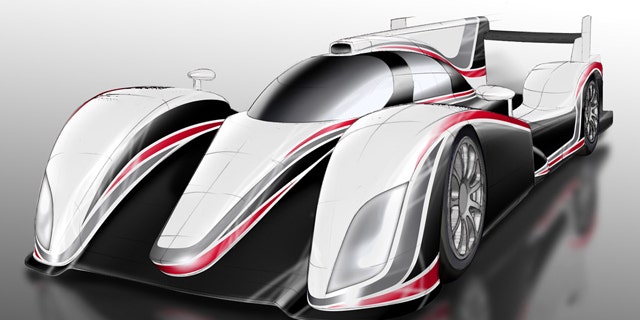 Toyota's latest hybrid isn't a Prius. In fact, it's not even street legal.
The Japanese automaker has announced that it will be competing for the overall win at the 2012 Le Mans 24 Hours race with a gas-electric hybrid prototype racing car. Technical details will be revealed in the coming weeks, but Toyota has released a digital rendering of what the closed-cockpit LMP1 car will look like.
The latest Le Mans regulations allow cars in the top LMP1 class to use hybrid powertrains that recover waste energy from the brakes, engine, exhaust or even piezoelectric systems connected to the suspension dampers and use it to improve both fuel economy and performance. The energy can be stored in either a battery pack or a mechanical flywheel, as has been successfully demonstrated by the Porsche GT3 R Hybrid in several events over the past few years.
Along with the 24 hour race, Toyota plans to campaign the car for the full season of the the FIA World Endurance Championship, which is expected to include two races in the United States, including the 12 Hours of Sebring.
American Le Mans Series President and CEO Scott Atherton said in a statement that his sanctioning body welcomes "Toyota's announcement and we will do all we can to encourage their participation in the American Le Mans Series as soon as this exciting and innovative program is ready." The ALMS has been recognized as one of the "greenest" racing series in the world for its promotion of alternative fuels and powertrains.
The Le Mans effort marks Toyota's return to the classic race after it ended competition there in 1999 to focus on its now-defunct Formula 1 team. It is now looking to position itself as a leader in the electrification of racing cars, and recently set the lap record for battery-powered vehicles at Germany's 13-mile-long Nurburgring Nordschleife racing circuit to promote its technology.
Click here to watch a video of Toyota's record run.
Along with the Le Mans program, Toyota is hoping to supply powertrains for one of the all-electric racing series that are under development.
Whether or not some of this racing technology will trickle down to the Prius is yet to be seen.
Click here for more from FoxNews.com Autos