The NYPD Deputizes the Chevrolet Volt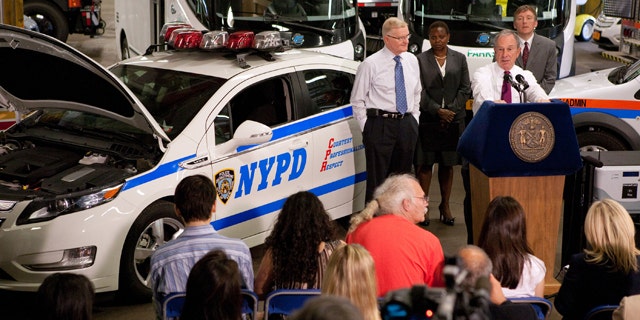 As if it wasn't tough enough to be a criminal in New York City already, now the police cars have stealth mode.
Today, Mayor Michael Bloomberg unveiled the New York Police Department's latest weapon: the Chevrolet Volt.
Bloomberg said that the city is adding 50 of the plug-in hybrid cars, along with 10 Ford Transit Connect Electric minivans and 10 battery-powered Navi-Star "E-star" utility trucks to its municipal fleet, which now has 430 'electric' vehicles.
Several of the Volts – which can go 35 miles before they need to use their internal combustion engines – will see duty in traffic enforcement and as non-emergency vehicles in the fire department. According to the Mayor's office, it will be the first time that the NYPD has used electric cars, although it has a number of hybrids on the force.
The administration is hoping that the city can lead by example in an effort to educate New Yorkers about the benefits of electric car ownership.
Just remember, the next time you plan on doing something illegal, even if you don't hear him coming, big brother may be parked right behind you.
Click here for more from Fox Car Report