The New Face of Ford Revealed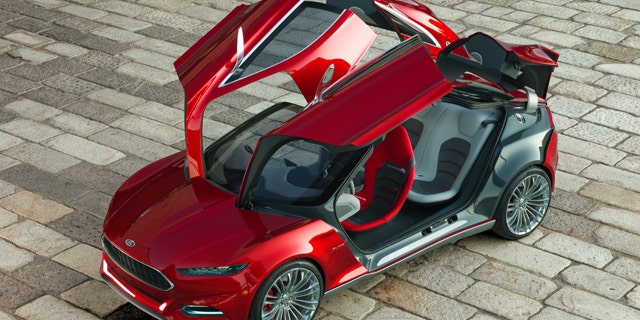 It has four gullwing doors!
If you need to know anything more than that, read on.
The Ford Evos Concept is a look at the future of the company's cars, inside and out. The four-seat compact coupe features a sporty, fastback design fronted by a trapezoidal grille and thin headlights that are set to become signature elements on many Fords to come.
Powered by the same plug-in hybrid powertrain set to debut on the Ford C-Max Energi crossover next year, the Evos promises all-electric propulsion over short distances and an overall range of up to 500 miles between fill-ups.
Inside the tech becomes a bit more fantastical. The driver is literally surrounded by wraparound flat-screen displays for the various infotainment and drive systems and sits in a chair that monitors his or her heart rate.
Tied into the "cloud" the Evos can use all of the onboard information and downloaded data, such as weather reports, to adjust its performance characteristics and even suggest alternate routes to avoid areas of high-pollution. Ford currently offers several cloud based information features through its Sync system.
More important to the green mission of the Evos, it is able to autonomously modulate the operation of its drivetrain to save power for mandatory all-electric running in zero-emissions zones, for instance, and increase its overall efficiency and performance based on a predicted route.
The Evos will make its public debut at the Frankfurt Motor Show in September, emphasizing its global focus. Another step in the automakers One Ford plan, unlike previous generations of its vehicles, the design direction laid out by Evos will be reflected in the company's products around the world.
Click here for more from FoxNews.com Autos