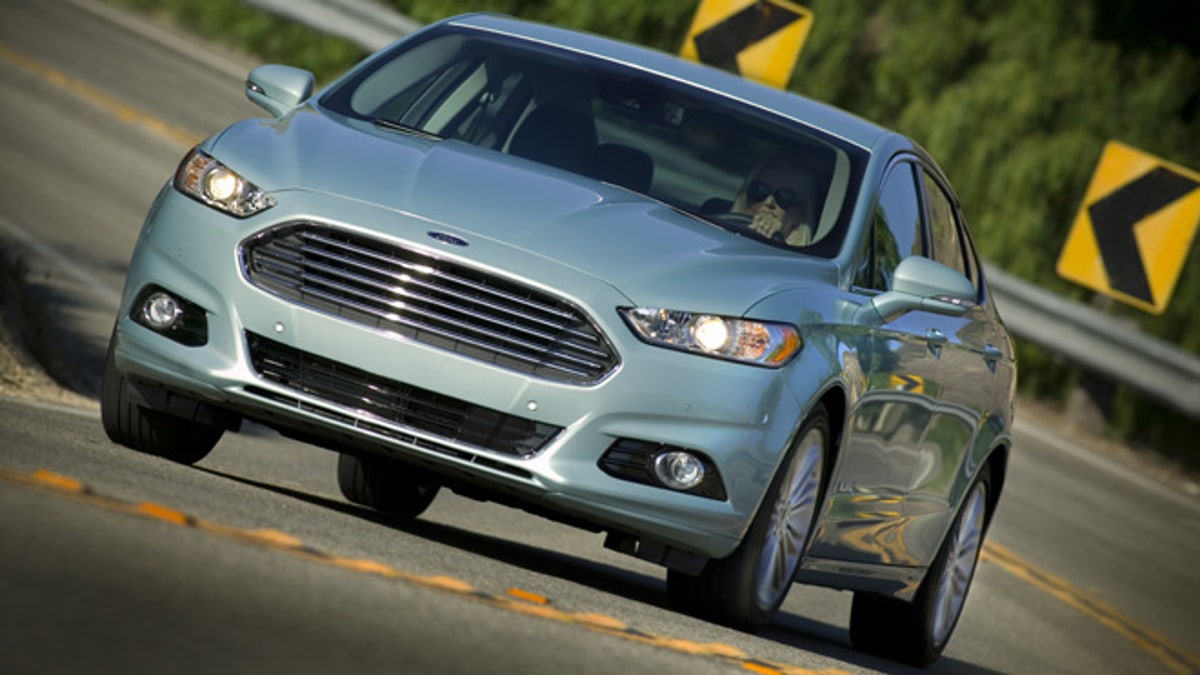 2012 is a leap year, and it's fitting that, for many of the new 2013 models emerging this summer and fall, there's a lot more than facelifts and refreshed feature lists. Most notably, a lot of the trends that we've seen over the past several years in luxury models—engine downsizing, fuel-efficient technologies, and in-car connectivity—are making the leap into some of the market's top sellers.
The Nissan Altima, Honda Accord, Ford Fusion, and Ford Escape—all some of the top-selling U.S. models—are each completely redesigned this year.
There's also a rebirth of sorts coming from Detroit. This is the year when we're seeing even more of the fruits of some mammoth investment at Ford Motor Co. [NYSE: F], in the form of radically new Fusion mid-size sedan and Escape compact crossover models that load up on the style, trends, and tech of high-end luxury cars yet stay relatively affordable; and at the same time we're seeing the first Chrysler product conceived under Fiat ownership—the Dodge Dart—hitting dealerships and looking to take back some of the small-car market.
Meanwhile, the rebirth extends to other kinds of models as well. Cadillac looks poised to be taken very seriously next to the likes of the BMW 3-Series and Infiniti G37 with its all-new ATS sport sedan. And while the Ram 1500 full-size pickup doesn't look all that different, the new powertrain technologies on board boost fuel economy by about 20 percent—helping to keep full-size trucks relevant as we head toward higher gas-mileage targets and, perhaps, higher gas prices.
Taking a step back to look at the market as a whole, here are ten vehicles that are especially important—for the market, for innovation, and for looking to the future—here for the 2013 model year.:
Ford C-Max. For years, the shape of the Toyota Prius has become iconic, and almost instantly equated with 'hybrid' and 'environmentally conscious' even to people who know nothing about cars. Now Ford is catching on; it's only offering this tall hatchback as a high-mileage hybrid—with a 47-mpg rating that beats the Prius V—and from an early drive we can say that the C-Max is more eager and enjoyable from the driver's seat. Ford doesn't have high expectations for C-Max sales, but we think that they're quietly eying a big piece of the Prius' pie—and that's only the start.
Ford Escape. Jumping all at once from the tall, boxy faux-SUV look of the 2012 Ford Escape to the radically different, rakish 2013 Escape is a shock. And with new turbocharged engines across most of the lineup, matched with advanced tech features, the new Escape is so different we're a little surprised this new model didn't warrant a name change. While there's no doubt the new Escape will draw in aesthetes who need practicality, as well as a new crowd to Ford dealerships, some questions remain. Even in its last throes, the previous Escape was a best-seller. Will the new Escape maintain that?
Ford Fusion. Ford used to have the best-selling passenger car in the U.S. That was 1996, and since then the Toyota Camry has been at the top most years, with the Honda Accord close behind and the Nissan Altima and Hyundai Sonata surging close the past several years. Mid-size sedans are still the heart of the U.S. auto market, and this time Ford has gone all-out to make gains. The new 2013 Fusion is edgy and transformative by design and wears its tech on its sleeve—painting it as the anti-Camry, almost. In-car infotainment and connectivity are near the head of the class and an all-four-cylinder lineup (including several turbo models and a Hybrid) should help save gas. The Fusion not only represents a huge investment in the U.S., with some production moved from Mexico to Michigan; we think it adds up to one of the most compelling designs for a new generation of car shoppers.
Dodge Dart. We all remember the cheery Dodge Neon, and yet the unrefined, inefficient Caliber is utterly forgettable. Thankfully, Chrysler has done its best to wipe the small-car slate clean and pretend the Caliber never happened with the all-new 2013 Dodge Dart. This compact sedan has a certain design flair that fits right in with the Dodge lineup yet stands out among small cars; and with high-end features like a reconfigurable TFT instrument cluster, HID headlamps, and Nappa leather upholstery, it's pushing affordable-car boundaries. From what we've seen so far of this first model born under Fiat ownership, it's quite close to a bullseye.
Honda Accord. After a highly criticized new Civic, Honda was facing more than a little pressure to get its new-generation 2013 Accord right. After driving the new Accord, we can say with certainty that they did. Base four-cylinder models of the Accord have a fuel-saving CVT that's the most convincing automatic-transmission imitator yet, but even more impressive is that Honda managed to keep the strong, smooth V-6—and eke out a 34-mpg highway rating from it—instead of transitioning to turbocharged engines. Combine this with some smart design, an improved feature set, and a little more of the light-driving verve that probably made millions fall for the Accord over the years, and it's reassuring to know that Honda may very well be back on track.
Volkswagen Jetta Hybrid. After years of downplaying hybrids and electrified vehicles, and trying instead to create interest in clean diesels (VW has done best with this), the Germans are getting serious about electrification and giving in to the questions about why there's no high-mileage hybrid on the lot. VW is the first German company to go for higher production volume with a hybrid, and that's why the Jetta Hybrid is such an important about-face, set to arrive at U.S. dealerships late this year. With a 1.4-liter turbocharged four-cylinder engine, 27-hp electric motor system, and seven-speed dual-clutch gearbox, the Jetta Hybrid should be a lot more fun to drive than the Prius, yet almost as fuel-efficient.
Ram 1500. Full-size pickups aren't going away anytime soon. The next several years we're going to see a sea change in powertrains, aiming for far better fuel efficiency, and the Ram 1500 is at the leading edge. With new eight-speed automatic transmissions, a new V-6, and available stop/start technology—plus an eco package that includes low-rolling resistance tires, a lighter-weight frame, and aerodynamic shutters—Chrysler has boosted fuel economy by a staggering 20 percent over the 2012 model. The Ram remains the most recognizable truck on the market, and new materials and trims inside make top Laramie Longhorn models among the most luxurious pickups ever.
Cadillac ATS. For decades, the BMW 3-Series has been the benchmark for compact sport sedans, but nothing from Dearborn, Detroit, or Auburn Hills has come close to challenging it—until this year, that is, when the Cadillac ATS hits the market. The ATS does more than just deliver a solid one-two punch with respect to design and functionality (including awesome seats and the very impressive CUE infotainment system); it's the best driver's car Cadillac has ever produced, and it's going to give GM a new foothold. And, just possibly, loosen the 3-Series' iron grip on the sport-sedan market.
Tesla Model S. Tesla has called its all-electric Model S sport sedan, which went into production as a 2012 model this past summer, the first "mass-produced electric vehicle." But likely in an attempt to keep quality high, production is still ramping up in order to meet a target of 5,000 vehicles by the end of the year and 20,000 vehicles next years. Based on early drives, we've judged the Model S to be everything we'd expect in a luxury sedan from Silicon Valley, and its EPA driving range of up to 265 miles—if you opt for the top 85-kWh battery pack—helps overcome some of the range anxiety that may give some other EV adopters pause. 2012 might have been the Model S's first model year, officially, but the 2013 model year will be when Tesla needs to prove itself—and, perhaps, its very different way of selling cars.
Scion FR-S. The Scion FR-S and the nearly identical 2013 Subaru BRZ (through corporate logistics, the FR-S is going to be the bigger seller of the two) weigh in as most meaningful outliers. Both of these have rolled in for 2013 as simple, back-to-basics sports cars with small, economical engines, rear-wheel drive, and the kind of driving experience that—as with the Miata—you don't have to blow way past speed limits to enjoy. After years of ever-faster top-performance models that also seem to be more bloated and detached, these models are proving to serve as a reality check for driving enthusiasts and the industry that sometimes, taking a step back and designing something completely new is the best way.
View original post