The MINI Coupe Strips for the Cameras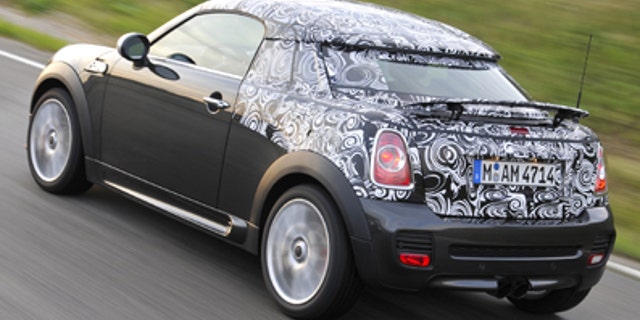 Spy photos of the upcoming, 2-seat MINI Cooper Coupe have been leaked onto the internet…by MINI!
In a trend that is becoming far too common in the automotive world of late, the BMW-owned brand has released photos showing the car undergoing testing, partially obscured by a camouflage wrap.
First revealed as a show car at the 2009 Frankfurt Motor Show, it's clear from the photos that the production Coupe remains faithful to the concept's "helmet roof" design and three-box silhouette, despite the fact that it is a hatchback. It will also be the only model in the company's line-up available only as a 2-seater, although it is built on the same platform and shares an identical wheelbase with the standard MINI Cooper Hardtop.
While it will be a few more moths before the car is revealed in all of its glory at this September's Frankfurt Motor Show, along with the photos MINI has revealed the major mechanical specifications of the Coupe, which largely mirror those of the other small cars in the company's lineup. Three versions will be available: Cooper Coupe, Cooper S Coupe and John Cooper Works Coupe, featuring 1.6-liter normally aspirated and turbocharged four-cylinder engines with outputs of 121 hp, 181 hp and 208 hp respectively. Six-speed manual transmissions are standard, while six-speed automatics will be optional on the Coupe and S Coupe.
Fox Car Report is on Twitter. Follow us @foxcarreport
Pricing and fuel economy information has not been released, but both numbers will likely be a little higher than those of the Hardtop, which starts at $20,100 and gets 37 mph highway.
Still apparently unseen by MINI's spy photographers is the convertible version of the Coupe, to be known as the MINI Cooper Roadster, but it will be interesting to see where they put the camouflage on that one.