The Mercedes-Benz Generation EQ concept will spawn a full line of Tesla fighters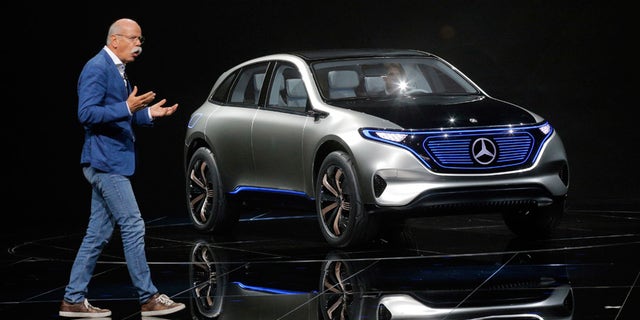 NEWYou can now listen to Fox News articles!
Yes, the granddaddy of all car companies is about to launch a full-court attack on Tesla's battery-electric business model. After more than two decades spent talking, developing, teasing, and fiddling about with emissions-free motoring, Daimler launched the Generation EQ concept car onto the Paris Motor Show. Not just that, but Daimler CEO Dieter Zetsche insisted the fully scalable powertrains and architectures inside the Generation EQ would give his company a battery-electric family of an SUV, a sedan, a wagon, a coupe, two- and four-seat convertibles and more.
All of them will sit beneath a new Daimler sub-brand, dubbed EQ, using lithium-ion battery packs developed and made by its subsidiary Deutsche Accumotive. "We're now flipping the switch. We're ready for the launch of an electric product offensive that will cover all vehicle segments, from the compact to the luxury class," said Zetsche.
If that doesn't have Tesla shaking in its boots, well, Elon Musk isn't the type to get rattled. But the market space Tesla used to have to itself is about to get crowded. Because it's not just Daimler taking its painstaking develop, validation and engineering philosophies into Tesla's territory. It's all the premium Germans brands. Daimler is taking it a step further than just cars, much like how Tesla has diversified with Powerwall and SolarCity, "Our new EQ brand goes far beyond electric vehicles," said Zetsche. "EQ stands for a comprehensive electric ecosystem of services, technologies and innovations." That includes everything from fast-charging wallboxes to home-based lithium-ion energy storage units, with all of it falling under the new EQ badge.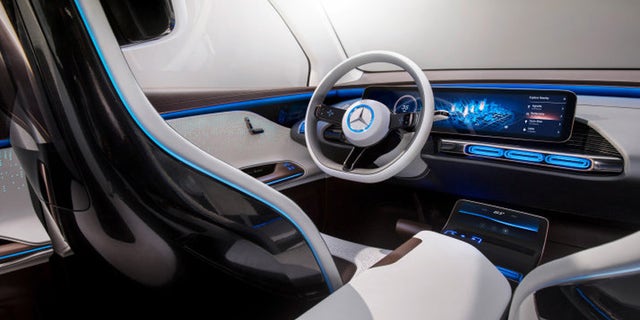 The concept car's look is surprisingly neat, clean and tidy, with a side surfacing not unlike Jaguar's smooth new F-Pace and a sporty, sleek, haunched rear three-quarter look over its 21-inch wheel that's reminiscent of Porsche's Cayenne. Part of its clean-sided look comes from hurling the door handles and mirrors, replacing the latter with rear-facing cameras (which were permitted in Europe this year, though nobody has thought to put them into a volume production car yet).
"Generation EQ is hot and cool," Daimler design boss Gorden Wagener claimed. "Its fascination lies in a reinterpretation of our design philosophy of sensual purity, the aim being to create an avant-garde, contemporary and distinctive electro-look."
The concept car sits atop a 70-kWh battery pack and its two electric motors produce up to 402 hp of power and 516 lb-ft of torque, good enough for hit 62 mph from a dead stop in less than five seconds. Even with that much performance potential from hosting an electric motor on each axle, Benz says the car is capable of eking out around 311 of range from a single full charge. (This is on European testing, US EPA range estimates are typically lower.)
Inside, the Generation EQ takes full advantage of the HERE digital mapping Daimler owns (along with Audi and BMW), to push the production car across the line from driver assistance systems to fully piloted driving. Besides being detailed enough to know the exact radii of every turnpike, intersection and bend it might ever face, the mapping also lets Benz put a new 3D digital interface onto the car's 24-inch TFT high-definition display screen. The system highlights the buildings that are helpful to navigation, but fades the rest to avoid confusion, while the Generation EQ also takes on board car-to-X data from other cars, buildings and infrastructure to keep itself out of trouble.
The first EQ production vehicle will be a road-ready version of the Paris concept car. Mercedes-Benz insiders insist the car's running gear is far closer to production-ready than is typical for one of their concept cars, right down to its chassis layout, which combines steel, aluminum, and carbon-fiber. Every major piece of the Generation EQ's production engineering will be scalable, allowing Daimler to effectively deliver CLA-sized cars and a silent, parallel S-Class off the same engineering scheme.
While the 2020 EU7 emissions laws, which will make engineering diesel technology almost as expensive as electric cars, were one driver for Daimler's push to battery-electric cars, it wasn't the only one. Dr. Z insisted charging infrastructure has improved to make battery-electric vehicles a real-world possibility for most people, especially with the new European standard Combined Charging System (CCS). The system recharges with between 50 kW and 150 kW of charging power. It is pre-engineered to handle as much as 300 kW of charging power, which would be enough to deliver 62 miles of battery range inside five minutes.
"The mobility of the future at Mercedes-Benz will stand on four pillars: Connected, Autonomous, Shared and Electric," Zetsche explained. "Generation EQ is the logical fusion of all four pillars."