The last Land Rover Defender has rolled off the line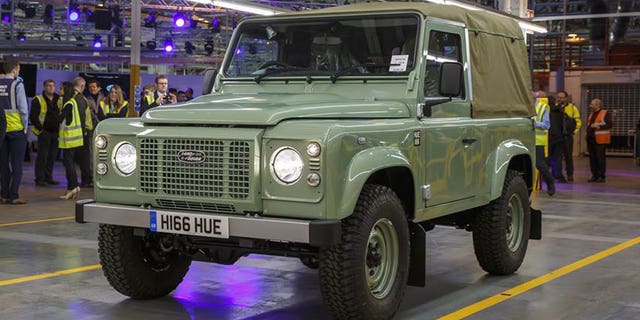 It's the quintessential Land Rover, and the original. And after 68 years of continuous production in the UK, the last-ever direct descendent of the original post-war off-roader has rolled off the line in Solihull.

Land Rover, as you might expect, made a big deal out of the event. Over 700 current and former employees of the Solihull plant, as well as the very first pre-production Series I, joined the last-everDefender 90 Heritage Soft Top's victory lap down the production lane. The plant, which has been in operation since 1948, had produced more than 2 million Series and Defender SUVs.
More auto news from Autoblog:
Porsche 718 Boxter

It's worth remembering that while the original Series I was in many ways ingenious, it was also to some decree dictated by its post-war circumstances. A massive shortage of steel led to the adoption of an aluminum body, not any sort of worry about corrosion or concern for lightweighting. And it wasn't yet the status symbol seen at luxury hotel valet lots, but rather an agricultural vehicle halfway between a tractor and an old farm truck, useful for innumerable tasks around the farm but also capable of a (slow) jaunt to town.

The Defender name came in 1990 years after the Range Rover and shortly after the Discovery joined the lineup. As the new Defenders became status symbols, the older Series trucks became valuable collectables instead of merely tools for a dirty job. The relatively luxurious but considerably more livable Defender Heritage models, like the final truck off the line, recalled the original trucks aesthetically but not dynamically. The Heritage models will surely become collector's items, probably sooner rather than later, based on the immense popularity and charisma of, and sentimentality for, the older Series trucks.

What's next? A new Defender is in the works, something the company is excited about and that casual observers as well as diehard fans are desperately hoping is worthy of the name. It's too early to tell if the company will build a true successor to the very tough but admittedly antiquated modern-day Defender, or if it will evolve into a different sort of vehicle skating along on its predecessor's hard-earned credibility. To be fair, Land Rover must be aware that it needs to get the new Defender right, so the smart money is on a modernized but not neutered vehicle that captures the spirit of the original.
----------
The $350,000 classic SUV