The Ford Mustang Shelby GT350 will keep burning rubber in 2018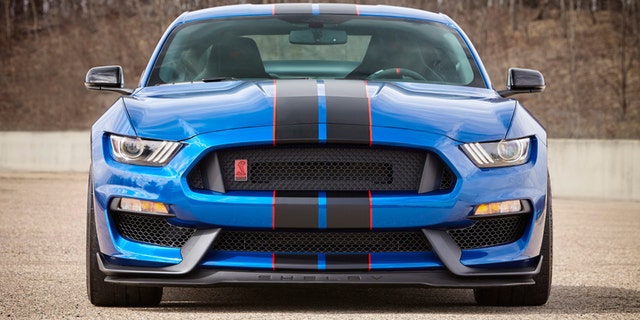 NEWYou can now listen to Fox News articles!
If you were hoping to get a lease on a new Ford Mustang Shelby GT350 someday, good news it just got a new lease on life.
Ford has announced that production of the highest performance Mustangs will be extended into 2018.
Despite the styling and tech updates coming to the rest of the Mustang lineup, the GT350 and GT350R will carry over into the new year with no mechanical changes, just three new paint colors: Orange Fury, Kona Blue and Lead Foot Gray.
The Shelby GT350 launched in very limited production at the end of the 2015 model year and sells in the thousands, often for well above its $57,045 base price thanks to demand. The only cash you'll find on the hood of one fell out of your pocket.
THE 2018 DODGE CHALLENGER SRT DEMON IS AN ABSOLUTE BEAST
It's powered by a screaming 529 hp V8 with a redline set at 8,500 rpm, an unprecedented level for an American sports car, and comes standard with three driveline cooling systems, Brembo brakes, a magnetically-controlled active suspension system and six-speed manual transmission.
Can't drive stick? Then you can't drive this, because an automatic is not available.
The GT350R features additional handling and aerodynamic tweaks and loses the rear seats.
While fans will surely rejoice, the GT350s time at the top of the Mustang lineup may soon be coming to an end, however, as prototypes of a next-generation car have been spotted in and around Ford's development center. Changes to the bodywork and the sound of the engine suggest that it could be a Hellcat-beating GT500 (or Mach 1 or who knows what they'll call it) with a rumored twin-turbocharged or supercharged version of the GT350's V8 that could crack the 700 hp mark.
SHELBY GT350 TEST DRIVE: