The 2018 Chevrolet Traverse is a bigger, better crossover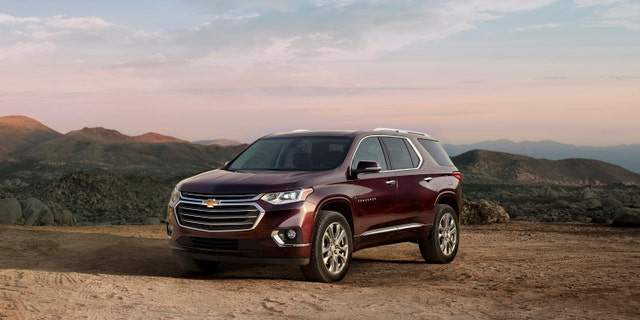 The Chevrolet Traverse is getting a full redesign for 2018, and looks to be bigger and better in every way that counts.
With styling that gives it a closer family resemblance to the full-size Chevy Tahoe SUV, the three-row crossover has more passenger and cargo room than the current model and weighs 362 pounds less, helping to boost its fuel economy from 22 mpg to an estimated 25 mpg on the highway for front-wheel-drive models powered by a new 305 hp V6. A new RS model will be offered with a 255 2.0-liter turbocharged four-cylinder engine and sporty trim. Both motors use a 9-speed automatic transmission.
For the first time, Chevy is adding a premium High Country trim level to the Traverse lineup that comes with upscale leather and suede trim, 20-inch wheels, all-wheel-drive, and technology that'll be optional across the lineup.
Among the new features available on are a 360-degree camera system, lane-keeping assist and forward emergency braking with pedestrian detection. GM's new rear seat reminder system will be standard on all Traverses and will alert you if it thinks that you many have left something, or someone behind in the back of the vehicle.
First introduced in 2009, Traverse sales peaked in 2015, but have lagged behind the top three-row crossovers, like the Ford Explorer and Toyota Highlander. Chevy hopes the new one will see an uptake in sales when it goes on sale later this year at prices yet to be announced.