The 2017 Chevrolet Camaro ZL1 could be the ultimate burnout machine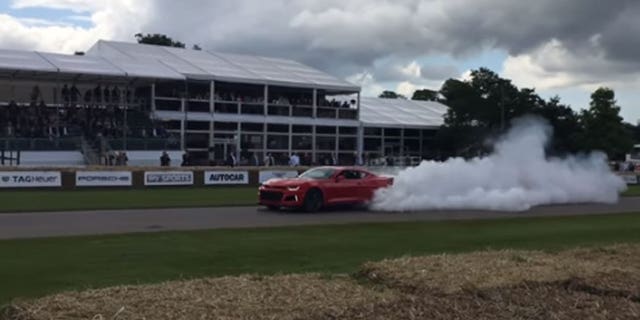 Tires, beware! Chevrolet just upped the ante in the burnout game.
Like the current V8-powered Ford Mustangs, 2017 Chevy Camaro ZL1 will feature a line lock mode that engages only the front brakes, allowing the 640 hp car to turn rubber into smoke with ease.
It's meant for warming up the tires before drag strip runs -- at least that's what the lawyers say – but Chevy is thinking outside the water box.
Autoblog reports that the ZL1's version will allow for rolling burnouts. Simultaneously pressing two buttons on the steering wheel eases up on the front brakes just enough to let the car move forward while still providing enough resistance to keep the burnout going for up to 15 seconds.
The feature was revealed at this year's Goodwood Festival of Speed, where GM product chief Mark Reuss demonstrated it before taking the ZL1 for a run up the event hill climb course.