Spyker Shares Frozen, Saab Deal Imminent?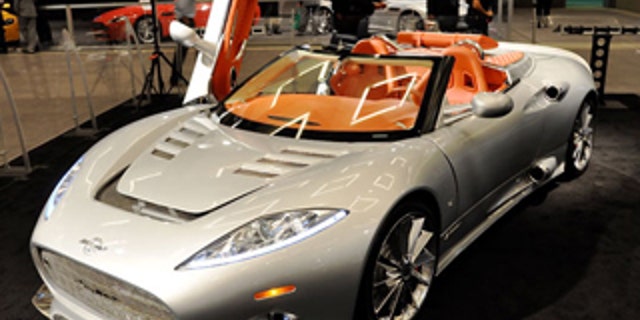 AMSTERDAM – Negotiators for General Motors Co. are close to striking a deal to sell the Swedish Saab brand to Dutch luxury automaker Spyker Cars, according to a person briefed on the talks.
No agreement has yet been signed, the person said, although trading of Spyker shares was suspended Tuesday in Amsterdam in anticipation of the deal being finalized.
A Dutch regulator said the trading was halted "pending a press statement" by the company.
An announcement could come after the market closes in Amsterdam, which is 11:30 a.m. EST.
Spyker Cars NV spokesman Mike Stainton has declined comment on why trading was suspended. Shares were up 2.8 percent at $5.50 before the regulators stepped in.
Spyker's shares leapt 70 percent Monday on speculation about the Saab deal. The companies said Monday they were in talks but had not reached a deal.
On Monday, GM CEO Ed Whitacre Jr. said the automaker is in "advanced talks" with Spyker but was continuing to phase out Saab's operations.
Click here to follow Fox Car Report on Twitter
The sale of Saab is part of GM's restructuring plan as it tries to recover from last year's short stay under U.S. bankruptcy protection. The company is dumping the Saturn and Pontiac brands and is trying to sell Hummer to a Chinese heavy equipment maker. It wants to focus on four core brands: Buick, Chevrolet, GMC and Cadillac.
GM has begun winding Saab down, though its 3,400 employees have not yet been laid off.
A deal for Spyker to buy Saab by itself is unlikely: Spyker sold 23 cars in the first half of 2009. The 6-year-old company has yet to make a profit, but it says funding for its operations have been guaranteed through 2010.
Money for a deal to buy Saab could come from Spyker's largest shareholder, Russia's Conversbank Financial Group, or other shareholders. It would also likely involve a large loan from the European Investment Bank, backed by the government of Sweden.
Stainton said the financial structuring of a deal would only be made public at the time it was announced.
Spyker's shares have been rising since its Chairman Victor Muller first began a public campaign wooing GM in early December.
Saab Automobile sold around 90,000 cars in 2008, a 30 percent decline from 2007. With another sharp sales decline expected, it filed for protection from creditors while it reorganized in February 2009.
Saab's U.S. sales last year amounted to only 8,680, down 59 percent from 2008 as consumers stayed away from the brand due to uncertainty over its future.
GM filed for bankruptcy itself in June and previous attempts to sell Saab by a Dec. 31 deadline failed.
Click here for more auto news and reviews from Fox Car Report