Sprint car narrowly avoids crowds during violent flip in Florida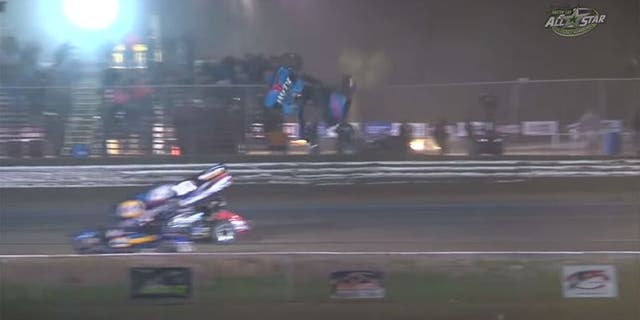 No major injuries were reported following a wild ride for Joey Saldana during a sprint car race in Florida on Wednesday.
Saldana was battling for second during the DirtCar Winternationals at Volusia Speedway Park in Florida when the incident occurred (1:55 in the following video).
Coming off of Turn 2, Saldana clips the back wheel of Jason Johnson, sending Saldana's car into a wild ride. Saldana's No. 17 machine rolls over four times before clearing the catchfence down the backstraight. Fortunately, Saldana's car comes back to land in front of the grandstands and then tumbles into a light pole without making contact with any of the spectators.
The race was red flagged immediately, but was later restarted with Donny Schatz holding off NASCAR driver Kyle Larson for the win.
MORE AUTO NEWS FROM FOX SPORTS