Shackleton descendant conquers South Pole...in a Hyundai Santa Fe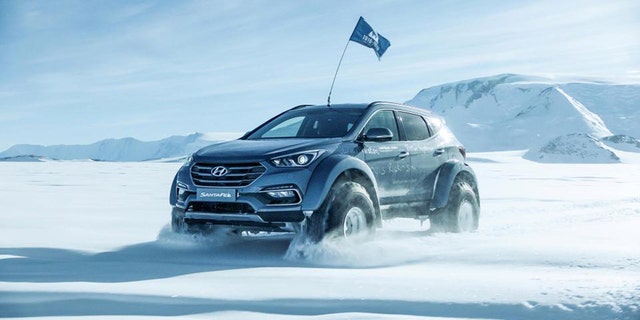 NEWYou can now listen to Fox News articles!
If you paid attention at school you will know of Sir Ernest Shackleton.
He was one of the great polar explorers and achieved many incredible things.
But his mission to cross Antarctica failed when his ship got trapped in ice and sank. Saving his crew became his most famous exploit. Now, 100 years on, Shackleton's great grandson Patrick has conquered Antarctica – in a Hyundai Santa Fe.
Not quite as heroic as Shackleton, it must be said, but still a first for a passenger car and an incredible achievement all the same.
Especially avoiding all those deep crevasses.
Patrick admitted: "It was a bit of a worry."
So much so that all four vehicles – the Hyundai and three support trucks – were roped together in case one fell into the abyss.
Squeaky-bum time.
Patrick's SUV was modified for the 30-day, 4,800km trek from Union Camp to McMurdo – and back again – but not as much as you might think.
Giant heavy duty low pressure tyres, special gearing and suspension, and a pre-heater for the engine to cope with the bitter -28C. It also ran on aviation fuel. But apart from that, it was pretty much standard.
Patrick said: "I'm reluctant to compare this to what my great grandfather did. But it is quite something to be the first to do this in a wheeled vehicle. A lot of people thought we'd never make it."