Rod impales car windshield in crash, misses driver's head by inches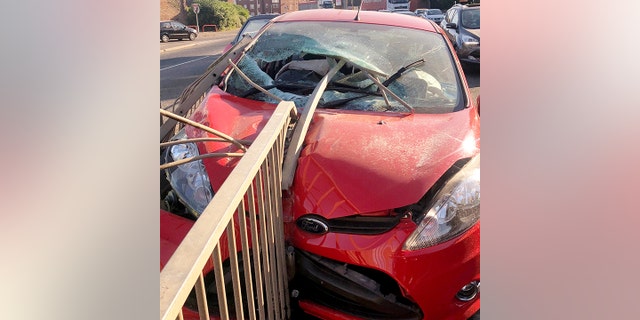 NEWYou can now listen to Fox News articles!
A motorist cheated death after a metal pole pierced his windscreen during a crash - missing his head by inches.
The unnamed driver had a miracle escape when he ploughed into metal railings sending a six-foot-long metal 'spear' from a barrier smashing through the front window.
Shocking pictures show just how close the pole came to hitting the motorist following the horror smash last Tuesday.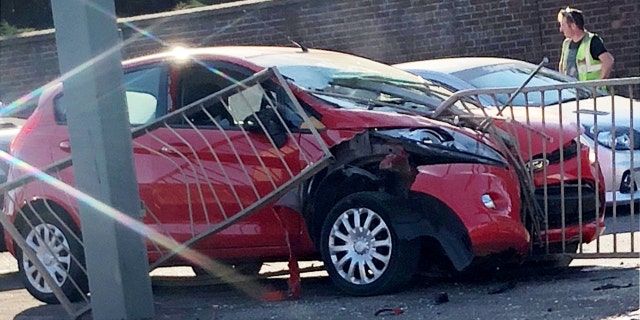 Emergency services were called to the scene on John Adams Way, in Boston, U.K., but the Ford Fiesta driver did not require any medical treatment.
CAR IMPALED BY WOOD PLANKS, BUT PASSENGERS SURVIVE
Witness Ricky Wade, 26, took photos of the crash and said the driver - the only occupant of the car - was lucky to escape with no injuries.
He said: "I was across the road in my friend's pizza shop when I heard this loud bang.
"I saw the traffic stop and I went running over with a mate. We made sure the person was OK.
"I took some pictures. He got out the car with no marks or cuts. He looked a bit shaken up but he was bloody lucky really. It's a miracle he escaped without a scratch.
"An ambulance was passing and stopped, and made sure he was all right. He refused to go to hospital. Police turned up and closed the road for about an hour."
A spokesman for Lincolnshire Police said it was called to the crash at about 6.40 pm last Tuesday and confirmed there were no injuries.