Rivian Automotive looking to battle electric cars with battery-powered trucks
With all of the electric car projects underway these days, you might think the world needs another one like it needs another hole in the ozone layer.
And that's exactly why Rivian Automotive CEO RJ Scaringe wants to build battery-powered trucks instead.
He founded the company straight out of engineering school in 2009 intending to develop low-cost, efficient hybrid cars, but soon switched his focus to full-electric power and followed the broader market shift to pickups and SUVs.
Now he's 35, has 450 employees, is sitting on half a billion dollars of funding, and is just weeks away from debuting his company's first two creations at November's Los Angeles Auto Show. They're a full-size pickup and three-row SUV that are set to go on sale in 2020 and shouldn't have much competition when they do.
Sure, Tesla has promised to introduce an electric pickup at some point, but it has a few projects to get out of the way first, while the major truck makers have no plans to build fully-electric off-road trucks anytime soon. Only fellow startup Bollinger Motors is targeting a similar timeframe for the boxy, bare bones SUV it revealed last year.
Although their bodies are still under wraps, Rivian has already shown the platform that will be the foundation for its trucks, and it sounds like the stuff dream machines are made of.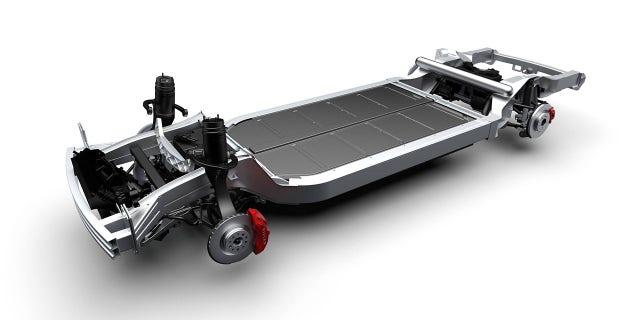 The aluminum frame is fitted with a gigantic battery array between its rails, four electric motors and an air suspension system that can lift and lower the vehicles. Rivian claims the trucks will boast 800 hp, 0-60 mph acceleration in less than 3 seconds, a range of 450 miles, more than a foot of ground clearance and the ability to plow through hip-deep water. They'll also be capable of hands-free semi-autonomous highway driving, of course, and do a neat trick you've never seen before and that I've been sworn to secrecy not to divulge.
Bars don't get set much higher than this, but Scaringe appears unfazed by the challenge of creating the automotive equivalent of an electric Swiss Army knife.
"We wanted to make sure we deliver something that's exceptional on road, exceptional off road, and at the same time doing those performance elements, still very usable. So it can fit your family, your kids, your gear, your stuff very easily in the vehicle," he says.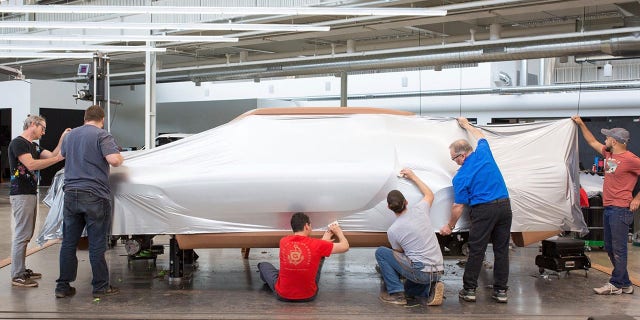 Scaringe describes their style as luxurious and sophisticated, but in a way that you won't feel bad about getting them dirty. Think old school Range Rover, or a fancier Jeep Grand Cherokee, which happened to be designed by Rivian VP of Vehicle Design Jeff Hammoud. Prices for the initial models will be in the $90,000 range, but less potent versions will be offered from $50,000 as production ramps up.
Given the technology involved, those prices seem optimistic for a startup needing to generate revenue, but Scaringe says they've designed the platform from the start to be built efficiently and profitably.
It will attempt to do both at a factory outside Bloomington, Ill., in Normal that Rivian bought from Mitsubishi last year for $16 million, and has already recouped a couple of million from by selling leftover equipment it won't be needing. Along with the finished vehicles, Rivian is also producing its own battery packs at the facility using cylindrical cells provided by an as yet undisclosed source. State tax incentives for bringing jobs back to Illinois could amount to more than $50 million over time if the project comes to fruition.
In the short run, Rivian is aiming for volumes in the tens of thousands, but has an eye on adding additional models that will push that into the hundreds of thousands later in the 2020s. For now, Scaringe is focused on getting the first two out of the factory gates.
Sales will initially be direct to consumer, but the company is in talks with potential distribution partners to enable its growth across the country and internationally. Part of that may come from licensing the technology to the same automakers that left the door open to Rivian's imminent arrival in the marketplace.
This story has been updated to clarify the location of Rivan's factory