Renault developing tiny, two-cylinder, two-stroke diesel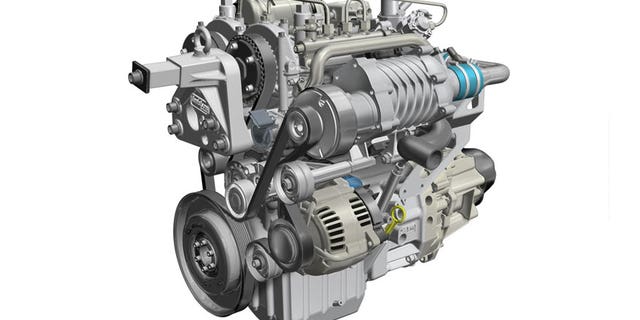 Honey, they shrunk the diesel!
Renault has unveiled a tiny two-cylinder, two-stroke diesel engine in development that could replace the four-cylinders used in its entry-level cars.
The so-called POWERFUL (POWERtrain for Future Light-duty vehicles) motor was inspired by large container ship engines that run on the two-stroke cycle and boast a thermal efficiency of 50 percent, compared to 35 percent for four-strokes.
However, those engines typically operate at a near constant speed and have a narrow power band that's not ideal for automotive applications, but through the use of both supercharging and turbocharging, Renault has addressed these issues and says it has seen encouraging results.
Many of the details of the engine are still under wraps, but it has a displacement of just 730 cc, produces up to 68 hp and 107 lb-ft of torque at 1,500 rpm, and is about half the size of today's equivalent 1.5-liter four cylinder diesel.
Renault is looking to improve on the fuel efficiency of its current engines by at least 15 percent while lowering the weight of its smallest cars, but expects it will be a few more years before the two-stroke is ready to hit the road.