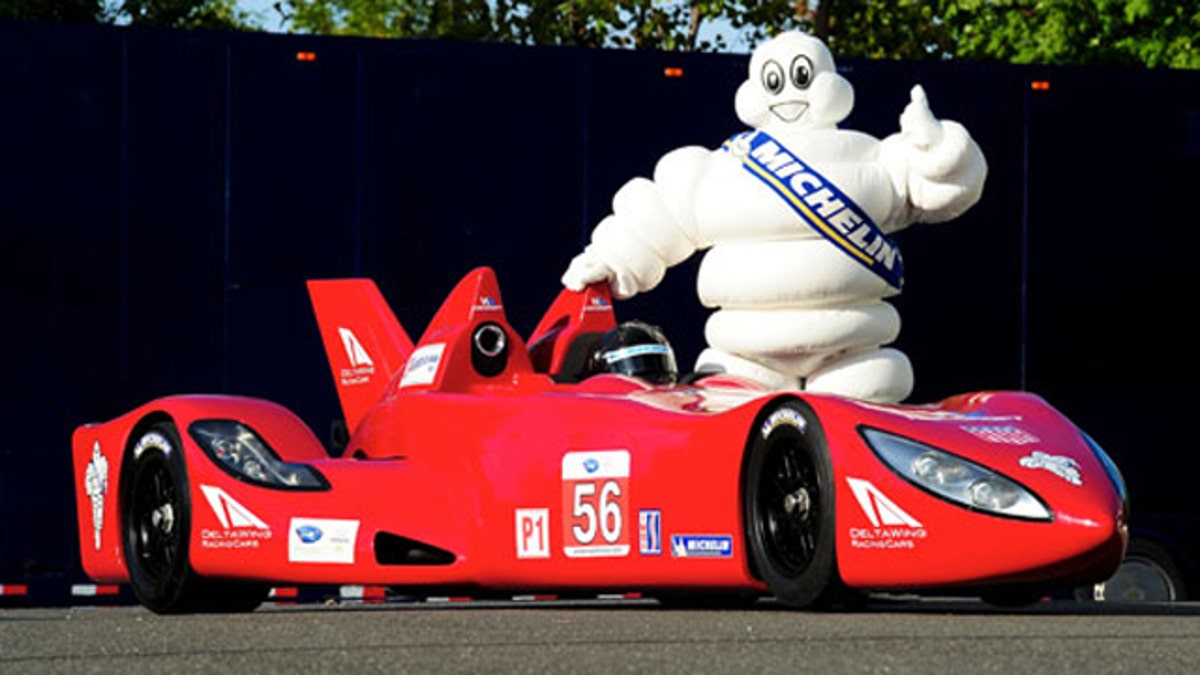 America's great red white and blue hope will be attacking the 24 Hours of Le Mans next year…on French rubber!
At the official unveiling of the DeltaWing racing car today in Atlanta, the team behind the revolutionary sports car announced that it will be using Michelin tires in the 2012 running of the classic endurance race.
The ultra-lightweight needle-nose vehicle promises to deliver the performance of today's top prototype racing cars combined with exceptional fuel economy, courtesy of a small turbocharged four-cylinder engine with about half the horsepower of the 2011 Le Mans champ, the Audi R18.
The DeltaWing was originally proposed as a single-seat spec chassis for the IndyCar series, but was rejected in favor of a more traditional design. DeltaWing stuck with the project, added a vestigial passenger seat to meet sports car racing regulations, and got the backing of ALMS President Scott Atherton, an advocate for the advancement of environmentally-conscious racing cars, who helped get the project in front of the Le Mans sanctioning body.
The brainchild of veteran racing car designer Ben Bowlby, the radical design was accepted by the organizers of the Le Mans race as part of their "Garage 56" program, which allows cars with promising new technologies to compete in the race outside of the traditional classes.
Bowlby's outfit has joined forces with Dan Gurney's All-American Racers, American Le Mans Series (ALMS) owner Don Panoz and Highcroft Racing to build and campaign the car in the 24 hour race, and possibly several others in the American Le Mans Series.
An engine supplier is yet to be announced, but a decision is imminent as the DeltaWing is expected to begin on track testing in the coming weeks. Earlier this year during an appearance on Fox Car Report, Bowlby said "I think we all want it to be an American engine."