Production of world's oldest 'new' car halted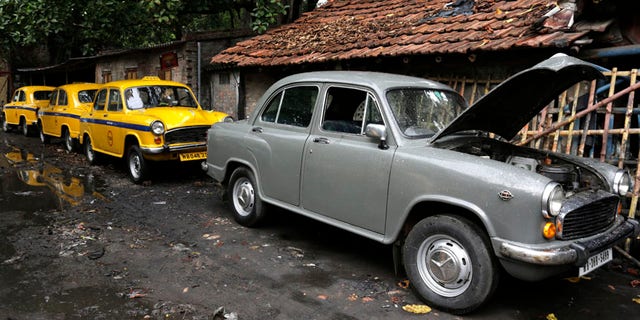 It's been in production longer than any car on sale today, but the Hindustan Ambassador may have finally reached the end of the road.
India's oldest car factory has abruptly suspended production of the hulking Ambassador sedan that has a nearly seven-decade history as the car of the Indian elite.
It was unclear how long manufacturing will be on hold, but Kolkata-based Hindustan Motors said Monday it hopes to resume making the so-called "Amby" after a period of restructuring and clearing of its debts.
Slideshow: Cars that won't die
The heavy car's large size and poor gas mileage have driven customers to cheaper competitors from abroad. About 80 percent of cars sold in India today are small cars that can maneuver in crowded cities and that cater to a rising middle class eager for wheels without costs.
The company began making the Ambassador in 1948, modeling it after the British Morris Oxford III. Last year only 2,214 of the vehicles were sold, reflecting a steep decline from production levels in the 1980s around 24,000 vehicles a year.
Also known as the grand old lady of India's pot-holed and pitted roads, the Ambassador has remained largely unchanged for more than five decades in ferrying the elite including prime ministers and high-society celebrities. It recalls an era when India's policy of economic self-sufficiency meant domestically produced cars were the norm.
Its bulbous chassis and bouncy back seats delight tourists and other passengers nostalgic for earlier times, while many in rural India still view white Ambassadors as the de-facto vehicle of officialdom.
Though most Ambassador sales go to taxi services and government departments, "there has been a reduction in demand for the Ambassador," the company said.
"Sturdiness is its hallmark," the company said. "The robust build, it was always seen as a positive point for customers who wanted durability and safety."
Hindustan Motors, which as of September had accumulated losses greater than its assets, said the company's Uttarpara plant, just outside Kolkata in the eastern state of West Bengal, was suffering from problems including very low productivity, growing indiscipline, a critical shortage of funds and lack of demand for the Ambassador.
It announced the indefinite production suspension, including a halt in the payment of salaries to nearly 2,500 employees, in a notice pasted on the factory gates Saturday night.
Hindustan Motors said it plans to reopen the Uttarpara factory after settling debts and restructuring. The plant also makes a 1-ton mini-truck called the Winner as well as car parts.
"If they want to maintain the vehicle, if they want the brand to survive, they will have to think through some changes in pricing, fuel efficiency," said auto analyst Abdul Majeed at PriceWaterhouseCoopers in India. "The middle class, those folks don't worry about comfort and luxury at this point in time. They are only looking at necessity."
Hindustan Motors has been unsuccessful in a long search for new investors. Earlier this year it transferred another car plant based in the south-coast city of Chennai to its financial arm, Hindustan Motor Finance Corporation Ltd. That plant produces Mitsubishi and Isuzu brand vehicles for the Japanese companies.
Shares of Hindustan Motors sank 10 percent Monday.
The Associated Press contributed to this report