Possible next Chevrolet Corvette ZR1 spied testing on public roads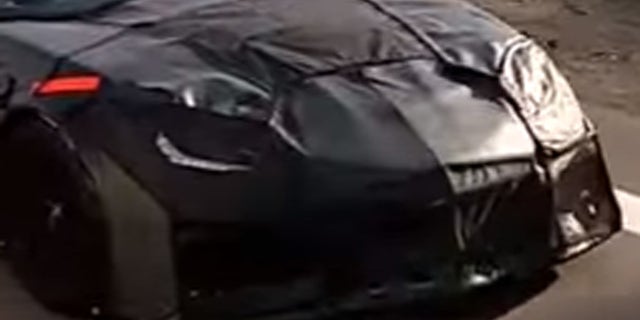 It looks like Chevrolet may be sending out the front-engine Corvette with a very big wing and a prayer.
Prototypes of what is purported to be the next top of the line Corvette ZR1 have been spotted on Michigan and Ohio roads.
Videos posted to YouTube by Indian Autos Blog and David Wessel show a trio of camouflaged Corvettes accompanied by a Corvette Z06, Chevy's current highest performer.
All have disguised front and rear ends, but the camo can't hide the enormous wing flying high over the tail of one of them, which must be part of an optional performance package, because the other coupe and the convertible with it sport much smaller airfoils.
Since Chevy has yet to even acknowledge a new ZR1, or whatever it may be called, is in the works, there's no official word on how powerful it will be. That said, the Z06 has a 650 hp supercharged V8 and Chevy calls it a supercar, so 700 hp from a modified version of that engine isn't out of the question.
Further down the road, rumors, backed up by photographic evidence, suggest Chevy is hard at work at either a mid-engine replacement or supplement to the Corvette lineup, it having been determined that the Corvette is pushing the limits of performance possible in a front-engine layout. Such a car would provide it with a more direct competitor to the Ford GT.
There were also a Dodge Challenger Hellcat and Jaguar F-Type SVR in the convoy. Neither is a performance slouch, but both are well known for their raucous exhausts, which is possibly the main feature being compared there.
Regardless of what these Corvettes are, it's likely they'll make their public debut at one of the upcoming auto shows early next year, followed by their possibly radical successor in 2018.
Test Drive: Chevrolet Corvette Z06: