Porsche to Build Race Track, HQ on Site of Shuttered Ford Factory in Atlanta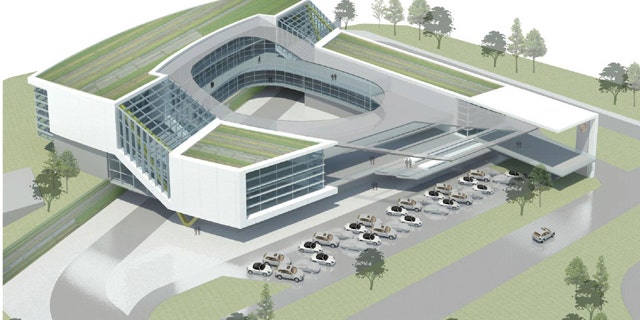 Porsche will spend between $80 million and $100 million to relocate its headquarters from the Atlanta suburbs to a new complex inside the city limits, company officials confirmed this morning.
The new facility, including a test track for shoppers to play with its high-dollar sportscars, sedans and SUVs, will be built adjacent to Hartsfield-Jackson Atlanta International Airport--"ATL," the nation's busiest airport.
The move will end 13 years of Porsche maintaining offices in the Atlanta suburb of Sandy Springs, Georgia, where it settled after leaving offices in Reno, Nevada.
Porsche officials say the company chose to consolidate offices in the new Atlanta facility after studying other sites, including sites in other states. In its favor, Atlanta has nonstop flights to Porsche's hometown of Stuttgart, Germany; it's also close enough for 80 percent of America's population to reach within a two-hour flight.
The new site is farther away from the city's wealthier northern suburbs, but closer to denser intown neighborhoods like Virginia Highland, Morningside and Midtown, home to many of the city's cultural attractions and its tourist district.
In the past five years, Atlanta lost a competition with Charlotte, North Carolina, to be the home to a new NASCAR Hall of Fame. In its stead, the city completed development of the area around Centennial Olympic Park with a new World of Coca-Cola museum and a new $250 million Georgia Aquarium, the latter largely funded by Home Depot co-founder Bernie Marcus.
New life for an old car plant
Porsche's new North American headquarters will be a part of a 128-acre mixed-use site dubbed Aerotropolis Atlanta. From 1947 to 2008, the site was home to Ford's old Hapeville assembly plant, which most recently assembled the Taurus and Mercury Sable. As the Taurus' home, it won accolades as one of the U.S.' highest-quality plants--but Ford dithered in adding new products to the site, and in 2006 it stopped production at the plant as it began a dramatic rescaling of its global operations.
In 2008, the site was sold to Jacoby Development, which already had turned a former steel-plant brownfield site in the city into a shopping and living district dubbed Atlantic Station.
Porsche's new headquarters will house up to 400 employees when it's completed for move-in late in 2013. While it will bring together some field offices and over time, about 100 new employees, the biggest impact on the company will be its prime frontage facing Interstate 75 south of downtown Atlanta. The complex won't just house North American staff--it also will include a test track and consumer experience like the one Porsche offers to U.K. visitors near Silverstone.
The course will "show off the capabilities of Porsche's industry-leading vehicles," the company said in a release--while it also shows off Porsche's major ambitions to scale up sales in the U.S.
The automaker will be the first tenant at the Aerotropolis, which means it could take some time before its headquarters are fully knit into Atlanta's infrastructure. Officials familiar with the plan say the Porsche facility eventually could be connected with the city's MARTA light rail system, and also the tram system that connects the airport's terminals, including the new Maynard Jackson International Terminal due to open in early 2012.
The site also has been planned to include a parking facility powered by solar-generated electricity.
Groundbreaking at the 26.4-acre Porsche site starts in the fall.
While Ford's old plant site gets new life, the former General Motors minivan plant at the northeast corner of Atlanta's Perimeter still awaits a new tenant. The site's been pitched as a location for a new stadium for the NFL's Falcons, but the city of Doraville voted down that plan--and proposed mixed-use developments have yet to materialize.
Click here for more from TheCarConnection.com