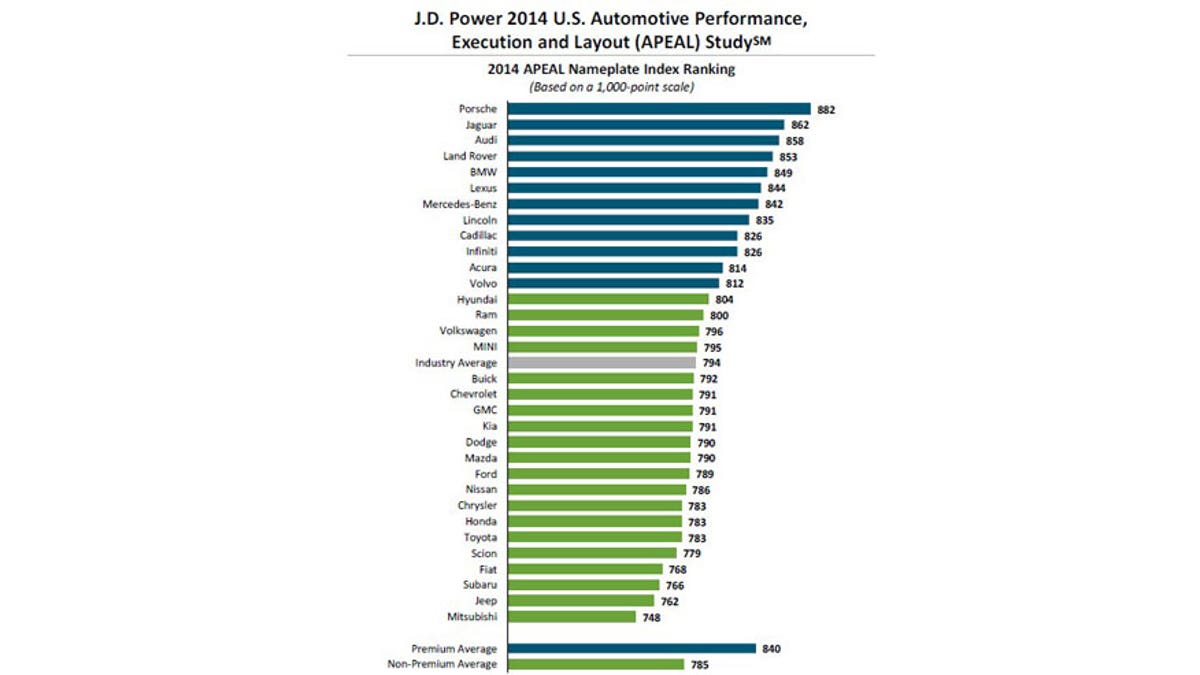 For nearly two decades, J.D. Power has polled customers to gauge how well they like their new rides. This morning, the firm released the results of its 19th annual Automotive Performance, Execution and Layout study (aka "the APEAL study"), and while luxury brands earned the highest marks from consumers, several mass-market brands proved that they've got the right stuff, too.
To gather this year's APEAL data, Power surveyed more than 86,000 Americans about the 2014 model-year vehicles that they'd either purchased or leased within the previous 90 days. Consumers were asked to grade their vehicles on 77 different attributes like fuel economy and styling, resulting in an average score that fell between 0 and 1,000.
READ: Death List 2015: The Cars That Won't Be Back Next Year
TRENDS & FINDINGS
Perhaps not surprisingly, new and redesigned models scored slightly higher than their carryover cousins, the former earning an average of 805 points, the latter 791. There are likely a number of reasons for that -- not just updated styling and newfangled amenities, but also the psychological satisfaction that comes from owning a vehicle that feels like the latest and greatest.
Also not surprisingly, high-end brands completely bested their mass-market rivals, with the lowest-ranked luxury marque, Volvo, still scoring 812 points -- eight points above the best-ranked mass-market brand, Hyundai.
However, there were a few unexpected findings -- some of them troubling. The average APEAL score of all cars included in the study was 794, one point below Power's 2013 average. That's because scores in most of Power's 77 categories declined. In fact, the only category in which scores improved this year was fuel economy, though it should be noted that Power attributes some of that six-point increase to a drop in gas prices.
Power also points out that in-car technology remains a weak spot for automakers. According to the firm's Renee Stephens:
"Newly launched models surpass carryovers in impressing owners with the look and feel of the vehicle. But as we also see in our 2014 Initial Quality Study, owners are not as comfortable with the functionality of the features. To differentiate new models from the pack, automakers must continue to design systems that are not just attractive, but also intuitive and easy to use."
We've heard that one before.
ALSO SEE: 2015 Dodge Challenger Lineup Priced--Including 707-HP Hellcat
BRAND VS. BRAND, MODEL VS. MODEL
For the tenth year in a row, Porsche landed in Power's top spot, with an average APEAL score of 882. Jaguar and Audi came in second and third, with scores of 862 and 858, respectively.
As far as mass-market brands go, Hyundai earned 804 points, with Ram at 800 and Volkswagen at 796. At the very bottom of the list, there was Mitsubishi, with a score of 748.
However, when Power turned its attention to specific segments, things got a bit more complicated -- and interesting.
For example, Porsche had three models to win top segment honors: the 911 (highest-ranked midsize premium sporty car), the Boxster (compact premium sporty car), and the Cayenne (midsize premium SUV). But Dodge took three top spots, too, with the Challenger (midsize sporty car), the Charger (large car), and the Dart (compact car). Audi, Ford, Mercedes-Benz, and Nissan each had two segment winners.
Here's a list of all the first-place finishers for model-year 2014:
Small Car: Hyundai Accent
Compact Car: Dodge Dart
Compact Premium Car: BMW 4-Series
Compact Sporty Car: Volkswagen GTI
Compact Premium Sporty Car: Porsche Boxster
Midsize Car: Mazda Mazda6
Midsize Sporty Car: Dodge Challenger
Midsize Premium Car: Mercedes-Benz CLS-Class
Midsize Premium Sporty Car: Porsche 911
Large Car: Dodge Charger
Large Premium Car: Audi A8, Mercedes-Benz S-Class (tie)
Small SUV: MINI Countryman
Compact SUV: Nissan Rogue

Compact Premium SUV: Audi Q5

Compact MPV: Kia Soul
Midsize SUV: Toyota Highlander

Midsize Premium SUV: Porsche Cayenne

Midsize Pickup: Honda Ridgeline

Minivan: Nissan Quest

Large SUV: GMC Yukon

Large Premium SUV: Land Rover Range Rover

Large Light Duty Pickup: Ford F-150 LD

Large Heavy Duty Pickup: Ford F-250/F-350 Super Duty