Police searching for gunman who shot at driver 3 times while she sat in traffic
Police have released shocking footage of a gunman's brazen daylight attack on a driver in London in the hopes of catching the criminal.
In the security camera video, the hooded and masked man can be seen approaching a BMW sitting in stopped traffic and firing three shots at point blank range through the driver's side window, which was half-opened and smashed by a bullet.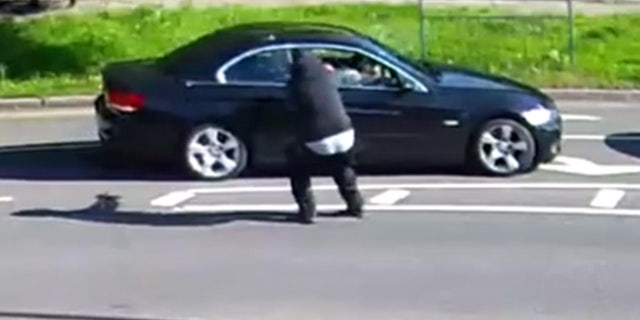 The person, dressed in an all-black tracksuit, then runs out of view where Metropolitan Police say he got into a car and drove off, as the shocked woman exits her vehicle without putting on the brake, and it rolls forward a few feet before she gets back to stop it.
Amazingly, or perhaps intentionally, the unidentified female victim was unharmed in the shooting, which took place on the morning of May 14in the city's Brent borough. Three bullet casings were found at the scene.
The suspect was described as a dark-skinned medium build black man, possibly with short dreadlocks, and about 5 foot 8 inches tall.
Police have not publically speculated as to what the motive of the crime may have been.
"We are following numerous leads, but are also appealing for anyone with any information to contact us as soon as possible," said the lead investigator on the case, Detective Inspector Tom Williams, in a press release.