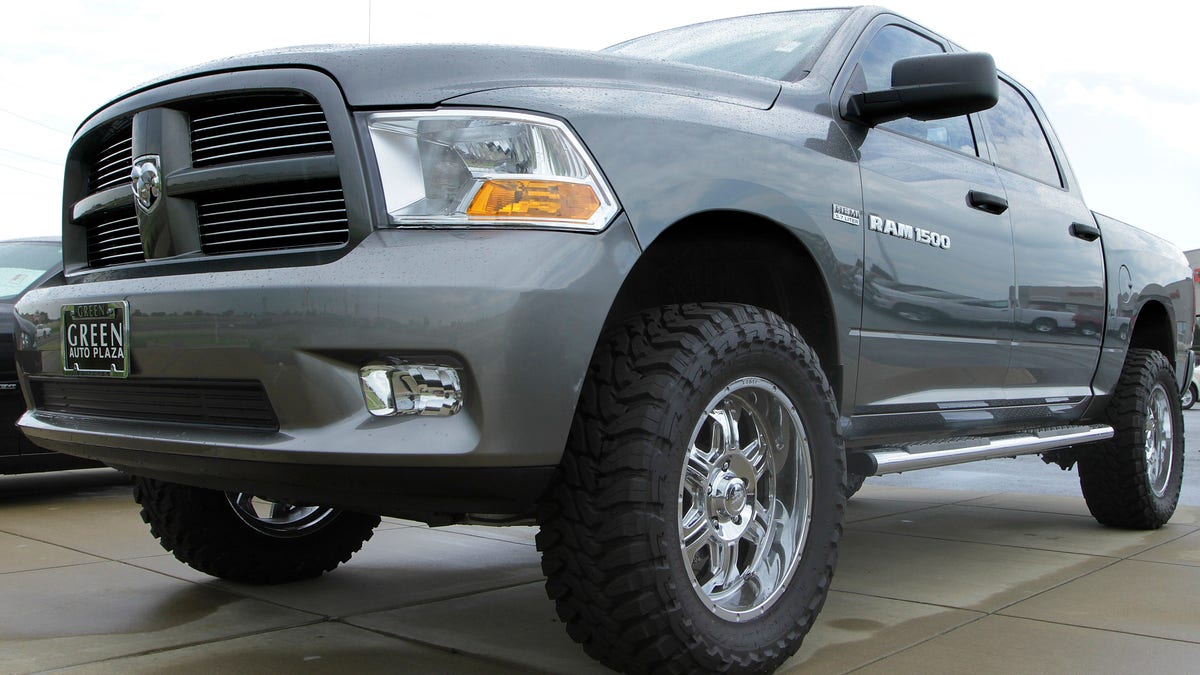 DETROIT – Strong pickup demand fueled a big jump in U.S. auto sales last month.
GM's August U.S. sales rose 10 percent compared with a year earlier, while Ford's rose 13 percent and Chrysler's 14 percent.
Most automakers reported strong gains as Americans flowed into dealer showrooms, drawn by model-year closeouts, low-interest financing and appealing new models. Analysts expect overall sales to rise around 20 percent when companies finish reported later Tuesday.
Pickups, traditionally the top sellers in the U.S., drove much of the business, thanks to a recovering housing market. Sales of Ford's F-Series trucks rose 19 percent, while Chrysler's Ram jumped by the same. GM's pickups, the Chevrolet Silverado and GMC Sierra, among the oldest trucks in the market, saw a 6-percent sales increase.
Asian companies and Germany's Volkswagen did well in car sales.
The overall increase was due mainly to pent-up demand as consumers and businesses were forced to replace aging cars and pickup trucks, said Yingzi Su, GM's senior economist. The average age of a vehicle on U.S. road is approaching 11 years.
"People have been holding off new purchases for such a long time, since 2008 to now," she said, adding that auto sales are seeing overall improvements even though the economy is growing slowly.
August sales could hit more than 1.2 million vehicles, up around 20 percent from a year earlier, analysts predict. The annual pace could reach 14.6 million units, among the best months of the year.
Toyota now has a full inventory of new cars at dealers and continued its recovery from bad sales last year. Sales grew almost 46 percent.
Honda, which like Toyota saw its factories hobbled by the earthquake in Japan last year, reported a 60 percent increase led by the Civic compact, CR-V small SUV and the Accord midsize sedan. Kia sales rose 21.5 percent from a year earlier, while Hyundai's rose only 4 percent over strong numbers from August of 2011.
Volkswagen continued its staggering growth. Sales jumped 63 percent on strong demand for the Jetta and Passat sedans.
For pickups, a better housing market appeared to be the driver: Builders are getting more permits to start home construction and they have been breaking more ground on projects.
Chrysler sold more than 25,000 Rams, aided by discounts. Ford said its F-Series sales rose to 58,201, while the Chevy Silverado trailed at 38,295.
Chrysler also reported a big spike in minivans, with sales of the Dodge Caravan and Chrysler Town & Country each rising more than 30 percent. Chrysler's 300 luxury sedan posted a 65 percent increase.
At Ford, sales rebounded from a poor July, driven by the new Escape and Explorer crossover SUVs. The redesigned Escape bounced back from a safety recall last month to increase 37 percent. Explorer large SUV sales were up 33 percent. Ford also said it would raise production in the fourth quarter by 7 percent to meet increased demand.
GM also recovered from a bad July, with all four of its brands reporting increases. Chevy sales were up 11 percent, led by the Cruze compact. The Sonic subcompact, which had barely reached showrooms in August of last year, saw sales jump to more than 8,700. It likely will be the top-selling subcompact in the nation again in August.
GM also said it was helped by heavy advertising on the Olympics and a full month of a money-back guarantee program for Chevrolets.
Industry analysts say U.S. auto sales are likely to keep the economy going even as it struggles to grow. The economy expanded at a tepid 1.7 percent annual rate from April through June. On Friday, Chairman Ben Bernanke made clear that the Federal Reserve will do more to boost the economy because of high unemployment and a recovery that remains "far from satisfactory."
Customers likely found good deals on 2012 models last month, especially for leases and pickup trucks. Chrysler is offering $4,289 in discounts on the Ram 1500, Edmunds said. Also, Honda raised its incentives 27 percent in August from July to an average of $1,666 per vehicle.
Buyers also were drawn out by exciting new models such as the midsize Nissan Altima and the Dodge Dart compact, Schuster said. Chrysler sold more than 3,000 Darts in its first full month on the market. The Dart is the company's first competitive compact car in more than a decade.
Low interest rates also were pulling people in. A 48-month new-car loan averaged 2.98 percent last week, according to Bankrate.com. And automakers were offering no-interest loans on some models.
Honda and Toyota once again are expected to lead the way in sales increases. Last year at this time their dealers had few models to sell because a March earthquake in Japan hobbled their factories. This year they're back to full supplies.
Sales started the year strong, backed off a little in May, but came back during the summer. Schuster expects to end the year at 14.3 million, more than 1.5 million above last year. Sales hit a recent high of 17 million in 2005. The bottomed at a 30-year low of 10.4 million during the recession in 2009.