Parking boots are being replaced by this yellow monstrosity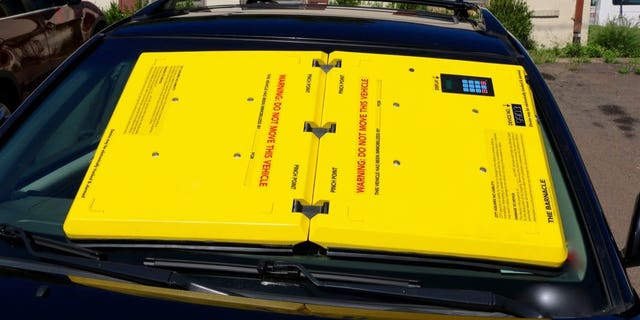 NEWYou can now listen to Fox News articles!
If you haven't paid your parking tickets you may soon have a face-to-face with "the Barnacle."
The yellow monstrosity, which latches on to the windshield and blocks the driver's view, rendering the car undriveable, has already begun replacing the parking boot in cities like Allentown, Pennsylvania, and Fort Lauderdale, Florida, as part of a 60-day trial that began Sept. 23.
The peculiar device is more effective than the boot at immobilizing cars and is easier to install, Kevin Dougherty, president of the New York-based Barnacle Parking Enforcement, told Philly.com.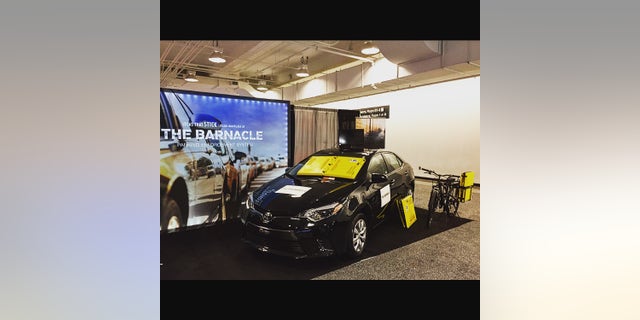 The Barnacle — an opaque piece of plastic held in place by two suction cups and 750 pounds of force — makes it nearly impossible for a driver to drive away, even if they think they can cleverly stick their head out of the window.
"If you ever actually try to drive that way, it's physically very difficult," Dougherty said.
The tech-savvy device is also sensitive to movement and will sound an alarm if it detects that a car is in use while it's attached.
While drivers may dread the Barnacle, it's more convenient for motorists who once had to wait hours for their boot to be removed by a parking official.
The device comes with a toll-free number so that the driver can pay fines over the phone. They are then given a code to release the device from their vehicle and then allotted 24 hours to take it to a drop-off location, according to the LA Times. The machine folds and can be easily stored in the trunk of a car.
The Barnacle also makes being a traffic enforcer safer, freeing officials from lugging around the unwieldy parking boots, which typically weight 40 to 45 pounds, and putting themselves in a dangerous position to install them.
Early models of the Barnacle weigh just 20 pounds and officials can attach it from the sidewalk instead of kneeling down in traffic to latch it on to the wheel.
The Barnacle, which sells for $600, may replace the boot in even more cities if the trials in Pennsylvania and Florida prove that it's cost effective and easier to use.
John Haney of the Allentown Parking Authority told Philly.com that he wants to see how the Barnacle fares in winter, when snow on the windshield may make it less effective.
Monique Damiano, public information specialist for Fort Lauderdale, told the LA Times that the Barnacle has thus far been met with puzzlement in the city.
"Most of the reaction that we're getting from violators is more of a curiosity," she said.