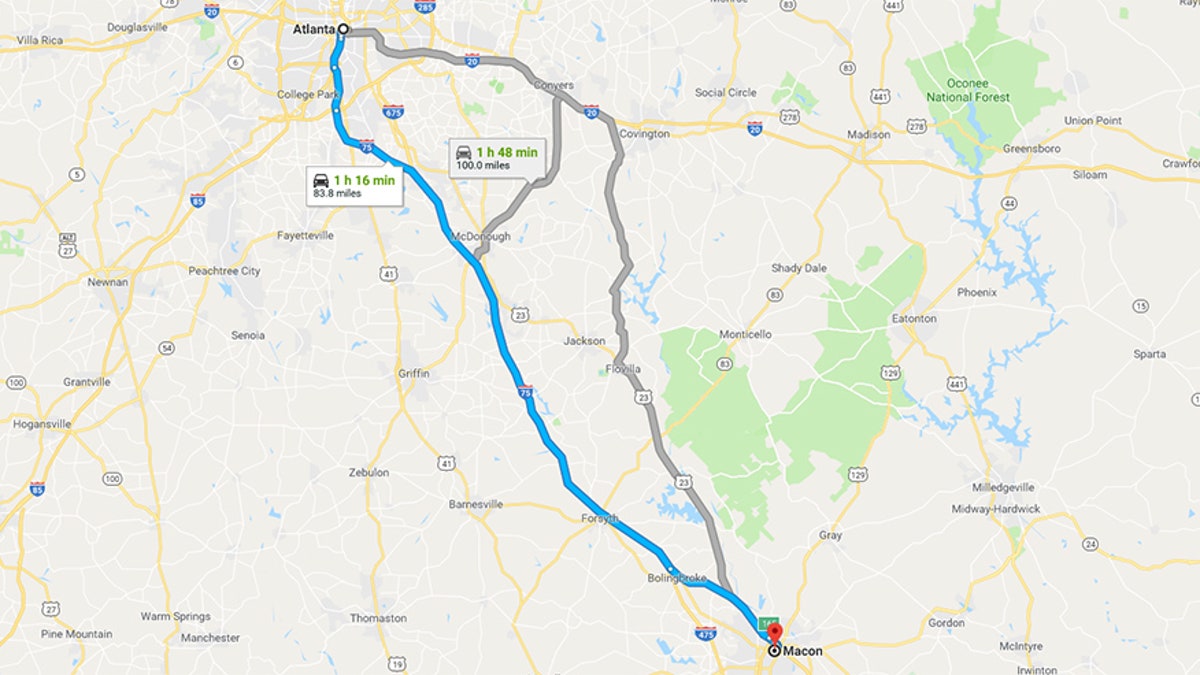 Georgia transportation officials are exploring the idea of a separate highway for trucks only.
It would be the first highway of its kind in the United States, said John Hibbard, the Georgia Department of Transportation's operations director.
WABE Radio reports that the toll-free highway would stretch 40 miles (65 kilometers) from metro Atlanta to Macon. It would give trucks their own separate roadway, which would have its own exits and entrances, Hibbard said.
State transportation officials say they expect truck traffic to double by 2040. The truck-only lanes have been proposed as a solution to reducing congestion for drivers of noncommercial vehicles on Georgia interstates.
Gov. Nathan Deal praised the truck-only highway during a recent Georgia Transportation Alliance meeting, calling it "an important part of what our future transportation system should and will look like."
The project's estimated cost of $1.8 billion is raising eyebrows, the radio station reported.
Georgia would ask for federal funds, but if the government doesn't come through, Deal said the project could still move forward with state money, specifically because of the state's Transportation Funding Act, passed in 2015. The act is paid for by an increase in fuel taxes.
But critics said the high cost is troubling.
Matt Casale is a transportation analyst with the U.S. Public Interest Research Group. His team ranked Georgia's truck-only lanes among the worst highway proposals in the country in 2017.
"It's really a gamble with the taxpayers' money," Casale said. "It's a lot of taxpayer money, and it's a lot of money to spend on something that we don't know is going to work."
The state transportation department's study projects that the truck-only lanes would reduce delays on Interstate 75 North by 40 percent.
"I think it's going to unclog a lot of the traffic," said truck driver Afori Pugh. "Because these trucks are huge, we can't move as fast as other people. They do not want to let you over."
Pugh usually has 20,000 pounds (9,100 kilos) of construction materials such as steel in the back of his white flatbed truck.
Every few weeks, Pugh drives two hours from Marietta to Macon. He said it can be rough.
"You have a lot of people flipping the bird, cussing you out," Pugh said. "But you just have to be patient and understand that they don't understand this industry."
When motorists cut in front of him to get by, there's hardly any margin for error, he said.
"They don't understand how much danger they're in just by getting in front of you slamming on brakes," Pugh said.
There were 4,317 people who died in crashes involving large trucks in 2016, according to the most recent federal statistics available from the National Highway Traffic Safety Administration.
Georgia Department of Transportation officials say they expect to select a general engineering consultant by the end of 2018. The consultant is expected to manage project development and would ask for public input during the environmental process.