New Ford SUV leaked, but is it the Bronco?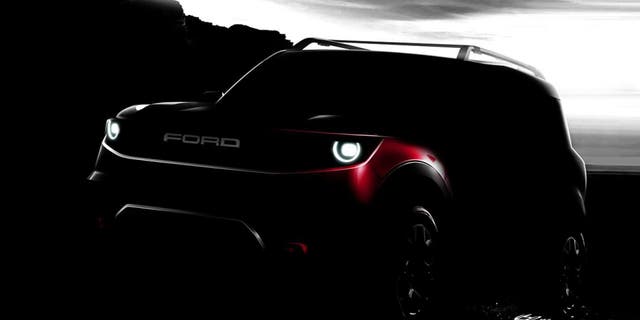 The first images of a new Ford "Bronco" have hit the internet, but which one is it?
The photos, first posted to Off-Road.com, were apparently taken at a dealer meeting in Las Vegas in October, where details on the vehicle were shared with attendees.
CLICK HERE FOR THE PHOTOS FROM OFF-ROAD.COM
The four-door SUV sports a relatively boxy shape that echoes the original Bronco's, but with soft edges, round LED lights and a "floating roof" illusion created by wraparound windows and painted pillars. Its contrasting white top is both a retro touch and a hot styling trend today.
The thing is, Ford has two Bronco-type vehicles in development. One is a Ford Ranger pickup-based truck that's a true reboot of the legendary 4x4, while the other is a Ford Focus-derived crossover said to have Bronco-inspired styling and some off-road capability.
FOLLOW FOX NEWS AUTOS ON FACEBOOK FOR MORE
The vehicle in the photos looks a lot like a teaser image of the latter that Ford released earlier this year, although it's not exactly the same. The shape of the front headlight surround is notably different, but it's otherwise very similar.
Back in September, a Ford engineer who claimed to be working on the Ranger-based Bronco told Gear Patrol that it is going to look a lot like the Jeep Wrangler, which further suggests the images from the dealer event show the crossover. In fact, a report from CJ Pony Parts points out that the shadow cast by the truck appears to fit that description precisely and is likely an Easter egg.
Whichever one it turns out to be should be cleared up at the Detroit Auto Show in January, when one or both are expected to be officially revealed.