New Ford Mustang Shelby GT500's supercharged engine possibly leaked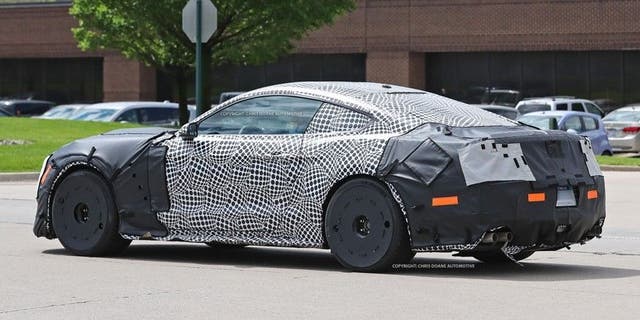 The lid may have just been lifted on one the most tightly kept secrets in the muscle car world: the identity of the powerplant residing under the hood of the upcoming Ford Mustang Shelby GT500.
The new Mustang flagship is still in development but a photo allegedly depicting part of its engine bay has surfaced on the Mustang6G forum thanks to member Super Werty.
It shows what's likely to be housing for a supercharger, and emblazoned on top is a "5.2 L" inscription along with the famous Shelby Cobra snake logo.
Also on the Mustang6G forum is a document stipulating engine oil requirements for several 2020 model year Ford vehicles and one of the mentioned engines is a 5.2-liter supercharged unit for a proposed "Mustang GT500." The car's stated oil requirement is 5W50.
And one additional item contained on the forum is a photo of what's alleged to be a front brake disc and caliper of the GT500. The depicted setup features a massive steel disc and Brembo caliper. Crucially, it's clearly larger than the brake setup featured in the Mustang Shelby GT350, suggesting some serious stopping power is in store for the Mustang flagship.
The GT500 is now thought to be arriving in 2018, as a 2019 model. Based on the latest information, we can expect the car to be packing a 5.2-liter supercharged V-8 likely related to the naturally aspirated 5.2-liter V-8 in the GT350. Rumors suggest the supercharged version of the engine will feature a more conventional cross-plane crank instead of the atmo engine's flat-plane unit.
Other rumored details include a 7-speed dual-clutch transmission borrowed from the Ford GT supercar, 20-inch wheels with 315-millimeter tires out back, and a power output approaching 800 horsepower.
Hopefully we'll have some official details on the car soon.
MORE AUTO NEWS FROM MOTOR AUTHORITY