New Chevy Silverado ad attacks aluminum Ford F-150...with stones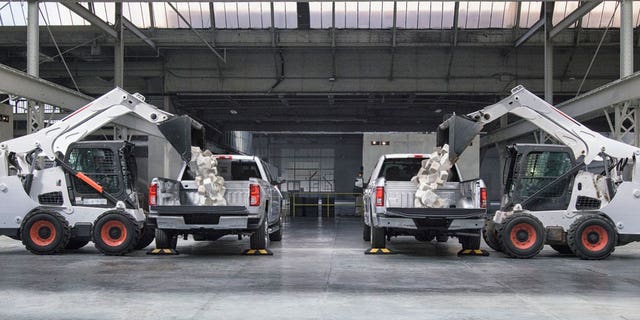 Chevrolet has a new ad campaign designed to crush Ford. Literally.
In it, Chevy takes aim at the Ford F-150's aluminum bed by dropping an 825-pound load of landscaping stones into it, which puncture the surface. A Silverado subjected to the same punishment suffers only scrapes and dents to its high-strength steel bed. Metal toolboxes are then pushed off of the side rails of both trucks and into the beds, with the same result.
Chevrolet says it conducted the rock test 12 times, with the Silverado suffering no punctures and the F-150 a total of 53. The tool box test was conducted 14 times, resulting in 2 punctures in the Chevy and 13 in the F-150. The company released additional video evidence backing up its claims along with the results of additional laboratory tests.
Chevy's marketing has previously touted studies that found the Silverado to have lower costs of ownership and repairs than the F-150, but the effort hasn't appeared to put much of a dent into the Ford's sales. Through the end of May, F-Series sales were up over seven percent to 324,307, while the Silverado's dropped nearly 13 percent for the month and are flat for 2016 at 223,990. Those figures include super and heavy duty versions of the pickups, Ford's not featuring aluminum beds.
Ford has not directly refuted the results of the new Chevrolet tests, but issued a statement that reads:
"When you're the market leader for 39 years, competitors sometimes try to take shots at you with marketing stunts. The fact remains that F-150's high-strength, military grade, aluminum alloy cargo box offers the best combination of strength, durability, corrosion resistance, capability, safety and fuel efficiency ever offered in a pickup. We have built nearly a million new F-150s, and our lead over the competition continues to grow."
Ford switched to an all-aluminum body on the F-150 to improve its fuel efficiency and hauling capability. While the current Silverado uses an aluminum hood, many analysts expect the next generation to expand the use of the lightweight material to other parts of its body.
When asked during a conference call about the new ads if Chevy would ever offer an aluminum bed on the Silverado, Engineering Group Manager: Advanced Technology for Body Systems Mark Voss said only that the company "will consider anything that can exceed roll formed high strength steel."