Nevada gives 80 mph speed limit the green light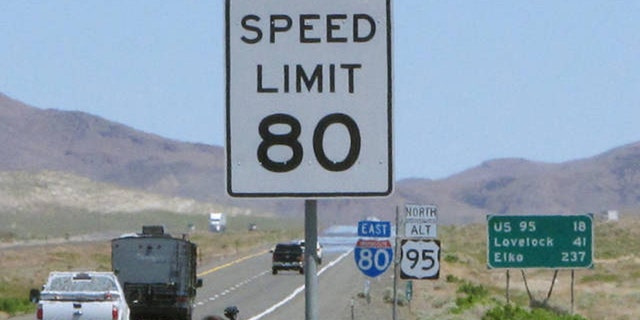 Nevada has become the seventh state to enact an 80 mph speed limit.
The signs announcing the change started going up on I-80 last week.
It's the fastest limit allowed in the Silver State since before the national 55 mph limit was established in the 1970s. Prior to that, Nevada let drivers to travel at "safe and sane" speeds, which effectively meant there was no limit on some roads.
Nevada joins South Dakota, Wyoming, Montana, Idaho and Utah, which all have 80 mph limits in sparsely populated areas, while the highest in the land is found on Texas State Highway 130, a privately-operated toll road that connects San Antonio and Austin where you can drive 85 mph.
WHERE DOES NEVADA'S NEW LIMIT APPLY?
The higher speed is on 130 miles of Interstate 80 in the high desert, from 40 miles east of Reno to the rural town of Winnemucca.
Parts of Nevada's colorful past and present dot the route, which runs along a trail used by pioneers bound for the Gold Rush in the 1840s. A state historical sign describes the Forty Mile Desert as a "barren stretch of waterless alkali wasteland," while an 1850 survey there counted the remains of about 5,000 horses, 3,750 cattle, 1,060 mules and 950 graves.
Back then, it took wagon trains days to cover the 40 miles. Now motorists can do it in a half-hour.
216 MPH FORD GT TEST DRIVE:
Westbound toward Reno, the speed limit drops to 65 mph between an industrial park that houses Tesla's electric car battery plant and the infamous Mustang Ranch brothel, where legal prostitution has been regulated since 1971.
It remains 65 mph through the downtown casino district, where recreational marijuana goes on sale at nearby dispensaries July 1.
SAFETY FIRST
Gov. Brian Sandoval signed the new maximum into law 18 months ago, but highway engineers spent the past year examining places safe enough to go that fast. They're considering future additions, but for now I-80 is it.
Dr. Alistair Chapman, a Las Vegas trauma surgeon, was among those who voiced concerns about accidents and urged lawmakers in 2015 to "put the brakes on this bill."
THE FIVE FASTEST PLACES ON EARTH
But Chad Dornsife of the National Motorists Association said fatalities didn't spike when other states raised the limit, partly because drivers spend less time on the road. "Fatigue is the biggest killer, not speed," he said.
Nevada Highway Patrol and transportation officials originally opposed the change but came around after studies showed current travel averaging 78 to 80 mph.
THE REACTION?
Not much so far.
"Most of the people out here are probably doing 80 already," said Tim Furlong, a Transportation Department supervisor who helped install the first signs this week.
Adrian Elena, an independent coast-to-coast truck driver from Sacramento, said it's good to have the option to drive 80 mph even though he rarely does because it's hard on his engine.
Law officers, meanwhile, say those who violate the new limit should expect a ticket, not a warning.
"There's this misconception that people think it's OK to go 5 mph over the speed limit, whatever it is," Trooper Dan Gordon said. "The speed limit is the speed limit — 80 is 80."
The Associated Press contributed to this report.