Nerf Battle Racer is ready to fight every kid on the block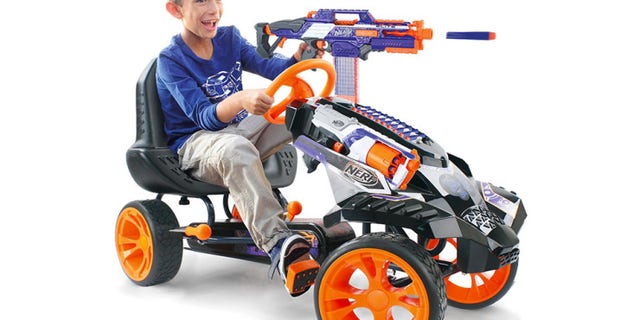 If you want your kid to be the menace of the block and have a mobile advantage in every Nerf war in the neighborhood, then you need to get him or her the Nerf Battle Racer. This pedal car can carry four weapons – two across the front and two more in the back – and a supply of darts to avoid running out of ammo in a fight.
This amazing vehicle is technically the creation of Swiss company Hauck Toys, but Nerf-maker Hasbro licenses it. In addition to carrying an arsenal of foam dart destruction, the pedal car also features ball-bearing hubs for each wheel, a free-wheel setting, and a handbrake to perform sharp turns while avoiding incoming projectiles.
Click here to see it in action
If your kid needs to park this cool toy in the garage, then get ready to spend. There are currently two Battle Racers on Amazon, and both are $689. According to the questions there, the pedal car can support up to 110 pounds, so at least your child can get use out of it for a while.
More news from Autoblog: