Need a used car? "Pope Francis' Philly Fiat" is up for sale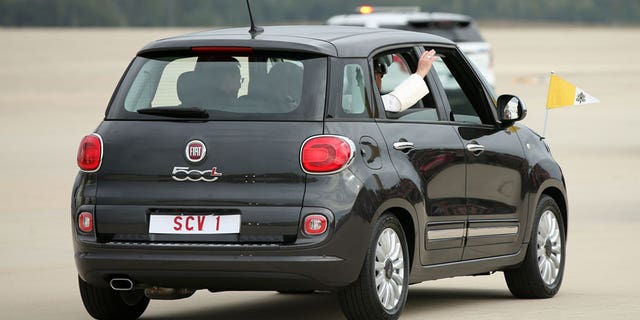 "Pope Francis' Philly Fiat" can be yours, if the price is right.
One of the two black Fiat 500Ls used to shuttle the Pope and his entourage around the City of Brotherly Love will be auctioned at a charity event prior to the Philadelphia Auto Show on January 29th.
Fiat provided the United States Secret Service with several of the cars to use during the Pontiff's visit to Philadelphia, Washington, D.C., and New York last year, and has since donated them to the Roman Catholic Archdiocese of Philadelphia.
The auction of will be conducted by the Maxx Spann Real Estate and Auction company, and bids for will also be accepted online. Proceeds will be distributed among several charities supported by the archdiocese. The second car will be displayed at the auto show from Jan 30th to February 7th and may also be auctioned.
For two years running, Consumer Reports has named the 500L the least reliable car you can buy, but it didn't break down while it was in the service of the Vatican. Pope Francis has made it a point to use mainstream cars for transportation, rather than the luxury vehicles often previously associated with the papacy.
If you miss out on the auction, the sticker price for a new one is $20,325.
----------
Fiat 500L Test Drive