NASCAR's Jeff Gordon sounds like he wants to race again
Jeff Gordon fans who'd rather see him in a car than in the broadcast booth may get their wish. Sort of.
During a Twitter Q&A with fans, the four-time champion turned Fox Sports commentator revealed that he's been thinking about giving the Camping World Truck series a try.
"I always thought about maybe looking at an opportunity to drive a truck at Martinsville or a track like that," Gordon said.
ARE YOU FOLLOWING FOX NEWS AUTOS ON FACEBOOK YET?
Gordon has nine wins at NASCAR's shortest track, including his final victory in the series in 2015. He's never raced a NASCAR truck before, however, and doesn't sound like he's looking to do much of it beyond Martinsville.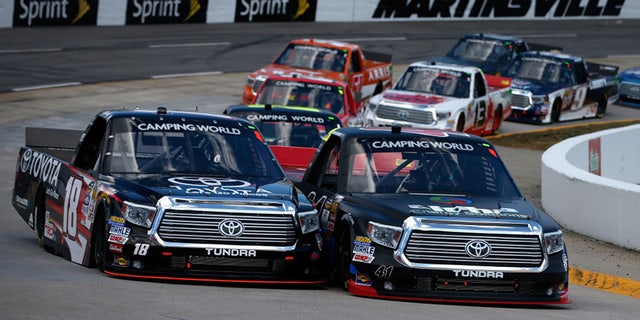 "I like the short tracks. But to do it on part-time basis at a like mile-and-a-half or a superspeedway – no, I'm happy to be up in the booth and out of the car right now," Gordon said.
Martinsville Speedway tweeted out that it "would be amazing" if Gordon raced there, while his longtime crew chief Ray Evernham added "I'm in."
Gordon's just thinking out loud at this point, as he doesn't have a ride yet for one of this season's races at the track.
"I'm enjoying myself and time with my family. I'll let you know if that opportunity comes up at Martinsville, though," he said.
Even if Gordon doesn't make it, Martinsville is welcoming back another fan favorite this year with the return of Jesse Jones southern style chili dogs to its concession stands after a three-year absence.