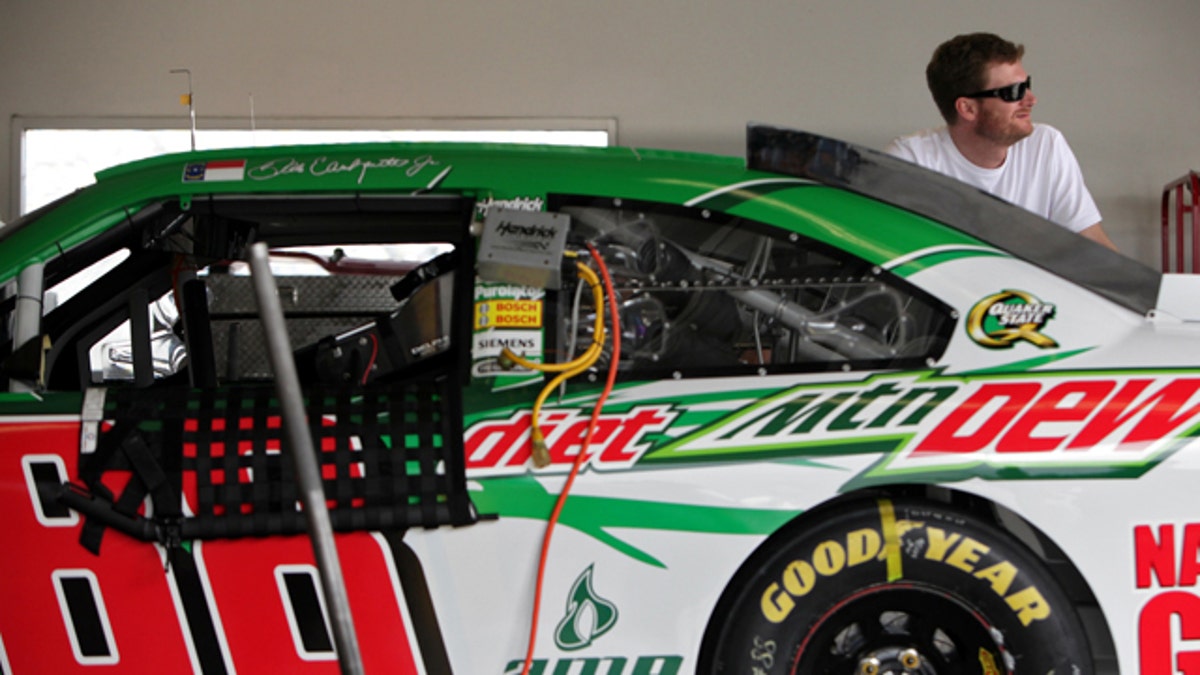 Over the past six decades, one of the most-watched sports in the world has stayed true to its core values: burning high-octane fuel in old-school carbureted V8 engines and keeping fans entertained.
Now, NASCAR is going green – and their initial forays have proved successful.
Over the past racing season, which ends this Sunday in Miami, NASCAR has used an ethanol blend called Sunoco Green E15. Offering a slight 6 to 8 horsepower gain over straight gasoline, ethanol is produced in the U.S. and, according to Brian France, the Chairman and CEO of NASCAR, the industry employs hundreds of thousands of US workers.
Read: Ford Police Cars Coming to NASCAR
"Our biofuels program implemented with E15 as our first step and electronic fuel injection coming into the Sprint Cup series next year is all about relevance to what fans are driving on the street and what is coming in the future into the market," says France, speaking to FoxNews.com.
France says E15 was selected after extensive research about what American drivers can use today without having to purchase a flex fuel car. The move this past season was intended to show that ethanol blends can work in high performance racing cars all season with no ill effects.
"Ethanol is a good product and it works," says Clint Bowyer, the popular NASCAR driver who won the Nationwide series in 2008. "This is the perfect test for a product like this."
Bowyer says the fuel change had little effect on car performance, even at high RPM. He says he saw more horsepower and it only involved some minor jetting (or adjustment) on the carburetor. NASCAR decided to use fuel trucks during the racing season instead of the fuel farms stored at the track. Bowyer says he barely noticed these changes and even felt the fueling ecosystem was safer and easier.
Experts argue that a move to E15 in the U.S. will be easy for the fuel supply chain (since they already mix the gas) but automakers have not embraced the change because of the risk with new blends. Brook Porter, a partner at Kleiner Perkins Caufield & Byers and an expert on fuel ecosystems, says NASCAR proved that the changeover is possible, even though they went from zero blend up to E15.
"This is a big statement to the industry," says Porter, speaking about the NASCAR change. He says E15 is a good way for NASCAR racers to connect with fans who may have a connection with corn farming.
Green posture
The NASCAR Green Summit presented by American Ethanol, which took place at the Eden Roc Renaissance hotel in Miami on Thursday, was partly a celebration of what the sport has accomplished and a call to go even further. Series title sponsor Sprint was on hand to discuss a new phone recycling program and other green incentives.
Michael Lynch, the managing director of NASCAR Green Innovation, told FoxNews.com that NASCAR will continue to explore alternative fuel options including cellulosic blends that mostly use corn stalks to create the fuel and not the kernel itself, which can be used for animal feed.
The biggest change next year will involve a controversial move to an electronic fuel injection (EFI) system. By using computer-controlled engine firings, NASCAR engines could eventually use other alternative fuels. Yet, some have argued that an EFI engine takes away some of the essence of NASCAR.
"I'm not a huge fan of electronic fuel injection but our manufacturers are wanting more technology in these race cars," says Bowyer. "With the backing they give us as a race team we need to make the effort to use fuel injection. NASCAR is made to look like the cars you drive on the road."
Porter says EFI is an important step if NASCAR is serious about going green.
"Fuel injectors provide flexibility in controlling air to fuel ratios within the cylinders," he says. "The stoichiometry of the combustion reaction changes with differing hydrocarbons, so a 'smart' engine controller can tell the difference while a 'dumb' engine can't adjust, and NASCAR could transition to another fuel, say butanol, with little modification – only a software change."
Porter says NASCAR is also adding solar panels to racetracks, and improving the energy efficiency of buildings at the tracks, but they could do more. One major change would be moving to electric drive trains, which would provide even more efficiencies and better fuel consumption.
The IndyCar series recently moved to a pure E100 ethanol mix and will be switching from V8s to more fuel-efficient turbocharged six-cylinder engines next year. The American LeMans Series has been on the forefront of green racing since 2008 and features cars that run on a variety of fuels, including diesel and isobutanol, along with hybrids. NASCAR has a ways to catch up and many of the changes will take time to implement.
When asked about "electrifying" NASCAR racing or even moving to electric engines, Bowyer said he thinks those changes might be inevitable. But says the next step will be to use a higher mix ratio.
"You can use even more of an ethanol blend. We're hurting for jobs in this country and, on a small scale, burning ethanol has helped keep food on the table of the American farmer."