NASCAR champ Joey Logano made a surprising discovery in the White House
Reigning NASCAR champion Joey Logano visited the White House on Tuesday and received an enthusiastic welcome from President Trump.
Trump said he watches NASCAR "all the time" and is a longtime friend of Logano's team owner, Roger Penske, who was also at the event.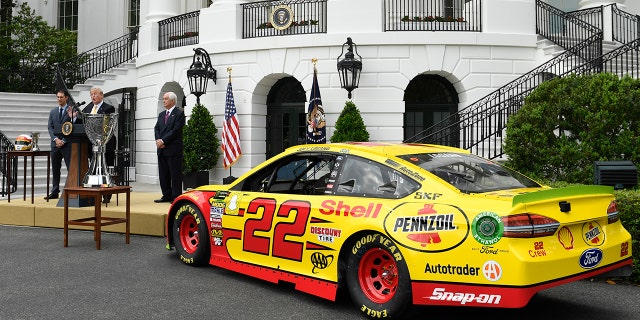 "They're winners, right," said Trump. "The team is a winner and NASCAR is a winner."
"I need to thank, obviously, our military and our leaders that give us the opportunity to go out there and do what we love every day," said Logano.
"Whether it's driving race cars, or watching it, or playing golf, whatever it may be, whatever you're into, we get to do that because we live in an amazing country."
TALLADEGA POKES FUN AT "POST-APOCALYPTIC WASTELAND" OF GARBAGE LEFT BEHIND BY NASCAR FANS
Logano tweeted afterward that it was a moment he "will never forget," which may not sound so surprising, but something he discovered during a tour of the executive residence definitely was surprising to him.
While visiting the library, the Ford driver spotted three bluish-grey books on a shelf that turned out to be a series about company founder Henry Ford and the automaker's first six decades.
The books were authored by Allan Nevins and Frank Ernest Hill and published between 1954 and 1963 by Scribners. The first, "Ford: The Times, the Man, the Company," covers the period of his life up to age 52, while the other two go into more detail about the company's history from 1915 to 1962.