Mystery former racing ace smashes his $200,000 Aston Martin supercar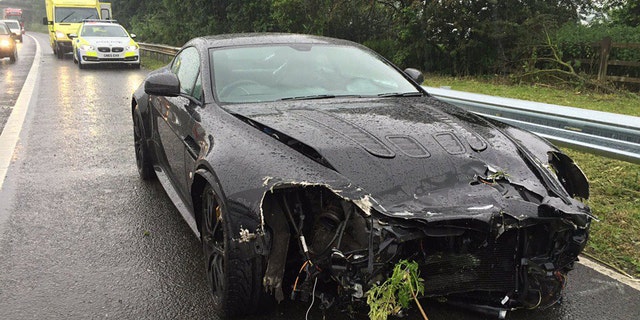 An ex-Formula One ace was left red-faced after smashing his luxury sports car on a British highway, The Sun reports.
The crushed black Aston Martin V12 Vantage had to be moved by police after the driver veered off the road clipped and the central reservation of the M20 motorway.
Cops confirmed rumours it was a former racing driver but refused to reveal their identity.
Kent Police confirmed they were called to one-car smash between junctions 4 and 5, near Maidstone at 9.26am on Friday.
The high-performance car, which can reach speeds of up to 205mph, is thought to have hit a patch of standing water whilst travelling towards the South East coast.
It was pictured with the front end smashed in and foliage in the grill after slamming into a barrier.
A spokesman for Kent Police said: "It was reported that a vehicle had made contact with the central reservation and was obstructing a live lane.
"To ensure public safety, lane three of the carriageway was closed.