McLaren dropping Honda as Formula One engine supplier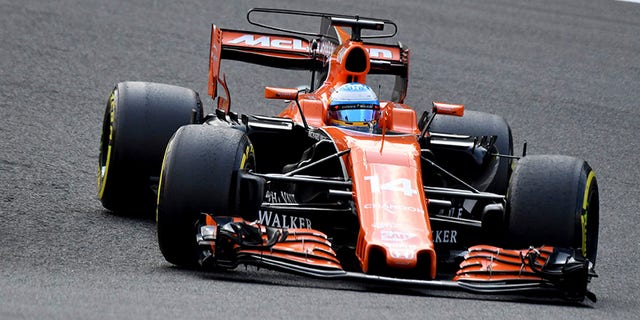 After three disastrous seasons, the McLaren Formula One team is cutting ties with Honda and switching to Renault as its engine supplier next year.
The longtime powerhouse team has been struggling near the bottom of the pack, due in large part to the unreliability and lack of power provided by Honda's turbocharged motors.
The last time McLaren and Honda got together in 1988 they won four straight manufacturer's championships, but have failed to recapture any of that magic this time around.
McLaren's top driver, two-time Formula One champion Fernando Alonso, has only finished three races this season, his best being a sixth-place result.
"It is in the best interests of both companies that we pursue our racing ambitions separately," McLaren executive chairman Shaikh Mohammed bin Essa Al Khalifa said in a McLaren team statement on Friday.
McLaren executive director Zak Brown added that "for a combination of reasons our partnership has not flourished as any of us would have wished."
Renault will supply McLaren for the next three years until 2020, a move which is likely to keep Alonso behind the wheel.
"It is the first time that Renault will work with McLaren and we are proud to have reached an agreement with an organization that has such a rich Formula One history," said Jerome Stoll, the president of Renault's F1 racing team. "We know that McLaren will push us hard on track."
Renault has a far more reliable engine than Honda, with Nico Hulkenberg consistently in the points for Renault and completing 10 of 13 races. With Alonso behind the wheel, and using a Renault engine, McLaren could expect a significant performance boost next year considering it has one of the best chassis in F1.
Despite being one of the oldest drivers on the grid, the 36-year-old Alonso is still widely considered to be one of the best.
Honda, however, is staying in F1.
In a raft of changes announced on Friday, Honda announced a "multi-year" deal to supply Toro Rosso — the feeder team to Red Bull — from next season.
Honda will take over from Renault as Toro Rosso's engine supplier, with Carlos Sainz Jr. leaving Toro Rosso to join Renault on a one-year deal for 2018 as part of the shake-up. He will partner Hulkenberg and replace struggling British driver Jolyon Palmer, who has not scored a point this season.
Although not yet confirmed, Red Bull is also likely to split with Renault and also take Honda engines — but reportedly from 2019. This would give Toro Rosso the chance to test out the engines over a whole season before both teams use them.
Christian Horner, Red Bull's team principal, has been highly critical of Renault's performance since the move to turbo hybrid engines in 2014.
Max Verstappen has failed to finish six times for Red Bull this season: Twice as many DNFs — failures to complete a race — as last season.
"We pay a hell of a lot of money for the engine," Horner said last month after the Belgian Grand Prix. "They need to sort it out."
Horner was expected to attend a news conference later Friday at the Singapore GP, as was Renault managing director Cyril Abiteboul.
The Associated Press contributed to this report