Matt Kenseth wins at New Hampshire, fails post-race inspection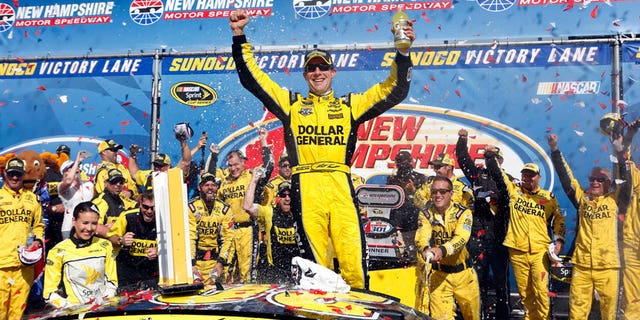 Matt Kenseth was always near the front of the pack. He stalked the leaders and waited for contenders to wilt.
Kyle Busch and Martin Truex Jr. faded down the stretch. So did Denny Hamlin.
It almost seemed like a repeat scenario for Kenseth.
Just like last fall on the same track when Kevin Harvick's lead evaporated when he ran out of fuel, Kenseth pounced. He pulled away down the stretch to win the Sprint Cup race Sunday at New Hampshire Motor Speedway.
Truex and Busch each led more than 120 laps before faltering over the final 75 laps, paving the way for Kenseth to win for the second time this season.
Kenseth also won the New Hampshire race last September. He has 38th career victories.
"Last fall, we squeaked one out, a little more fuel than Kevin and a little different strategy, but not quite as good a car," Kenseth said. "Today, I felt like we had the best car."
NASCAR said Kenseth's No. 20 Toyota failed the post-race laser inspection station and will be brought to the research and development center in Concord, North Carolina, for more evaluation. The penalty for that kind of failure has traditionally been a 15-point penalty. But this was the first time a race winner was busted since the lasers were instituted in 2013.
Tony Stewart finished second and strengthened his spot inside the top 30 in the points standings. Stewart has a win this season and needs to secure a spot in the top 30 in points to clinch a spot in the Chase for the Sprint Cup championship. He inched from 30th to 28th in points.
Joey Logano was third, followed by Harvick and Greg Biffle.
Alex Bowman had a solid day ruined when he hit the wall late and finished 26th driving for Dale Earnhardt Jr. Earnhardt was sidelined because he suffered from symptoms of a concussion.
Truex tumbled to 16th when his Toyota suffered a broken shifter and Busch dropped to eighth when he could never break free on late-race restarts.
"We're doing everything right, but we're taking some on the chin here," Truex said.
That allowed Kenseth, Busch's Joe Gibbs Racing teammate, to cruise to the top and snatch the lead with fellow JGR teammate Denny Hamlin with 30 laps He drove away on the final restart with 11 to go in the 301-mile race and soon the traditional lobster plopped on the hood of his Toyota.
But this race could be the one remembered for truly solidifying Stewart in Chase contention. He snapped an 84-race losing streak last month at Sonoma and was fifth last week at Kentucky Speedway. Smoke is heating up this summer and could be racing for a fourth championship in his final NASCAR season.
"Everyone wants this last year to be good," Stewart said. "Sonoma, I think really helped relax everybody."
Kenseth became the first driver since Kurt Busch in 2004 to win consecutive starts at New Hampshire. He didn't win in his first 27 Cup starts at the track but has three wins in his last three races at the 1.058-mile track.
"It used to be one of my worst places and now I feel like it's one of our better places," he said.