Massachusetts police cite driver twice in 5 days for unsecured load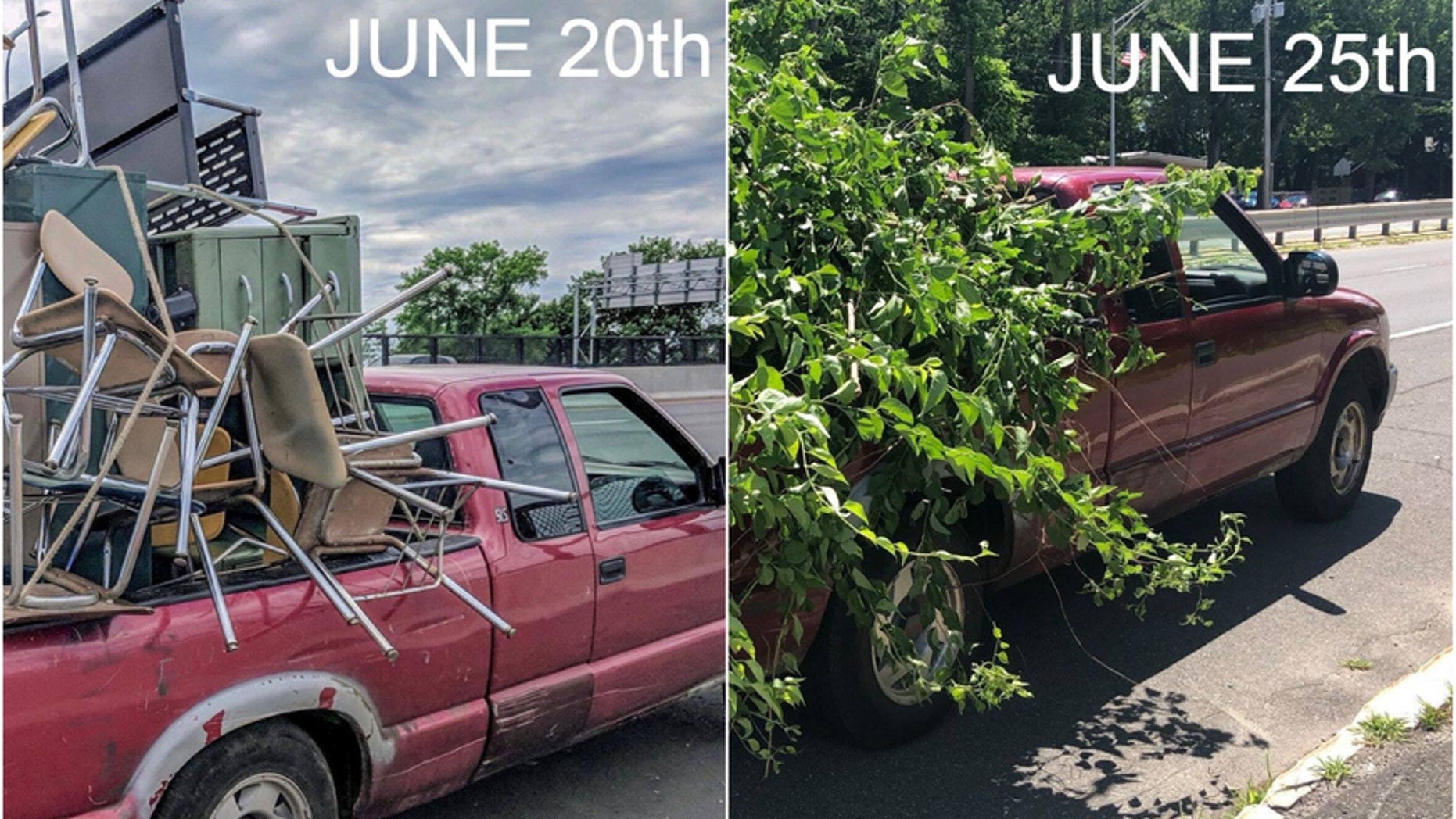 Massachusetts police say a driver was cited for an unsecured load on Monday — just five days after being stopped for the same offense.
The latest incident happened in Chicopee on Monday.
"Today, Ofc Eric LaFlamme, one of our traffic officers, stopped this vehicle on Memorial Drive, for an unsecured load, obstructed tail lights, and obstructed plate," Michael Wilk, public information officer for the Chicopee Police Department, posted on Facebook, along with several photos of the stuffed vehicle.
According to Wilk, the driver was the same one stopped by Massachusetts State Police in Springfield on Wednesday.
The driver was caught last week transporting a massive amount of furniture in his GMC Sonoma pickup. State police cited the driver for an unsecured/uncovered load.
"I am sure you are thinking to yourself, both instances are extremely dangerous, and not smart," Wilk said. "What will make your head shake even more, THIS IS THE SAME OPERATOR AGAIN."
He continued, "Just 5 days later, he again drove with a load that could cause issues for others."
'NAKED HERMIT' WHO LIVED ON SECLUDED ISLAND FOR NEARLY 3 DECADES FORCED BACK TO CIVILIZATION
Wilk then shared a message with motorists.
"Please. If you have to carry a load in your pickup truck, DO NOT DO IT LIKE THIS," he urged. "And, if you ever see something like this operating, call, so we can stop it, before someone gets hurt."
The post received more than 330 reactions and 130 comments as of Tuesday afternoon.
"I love this guy. What ever [sic] he's got going on in his life, he absolutely has no time to make two trips. Busy dude," one man weighed in.
"Trying hard not to laugh because of the danger he s [sic] causing, twice! Looks like this hauler needs some tough love from the CPD!" a woman wrote.
Another woman added, "Chicopee PD, third offense should take away his license. Three strikes you're out!"
Chicopee police, citing the Massachusetts Registry of Motor Vehicles (RMV), clarified that they don't have the authority to revoke licenses.
"We can only issue citations and notify RMV,"  they explained in the post.
The Associated Press contributed to this report.