Marussia to run only 1 car at Russian GP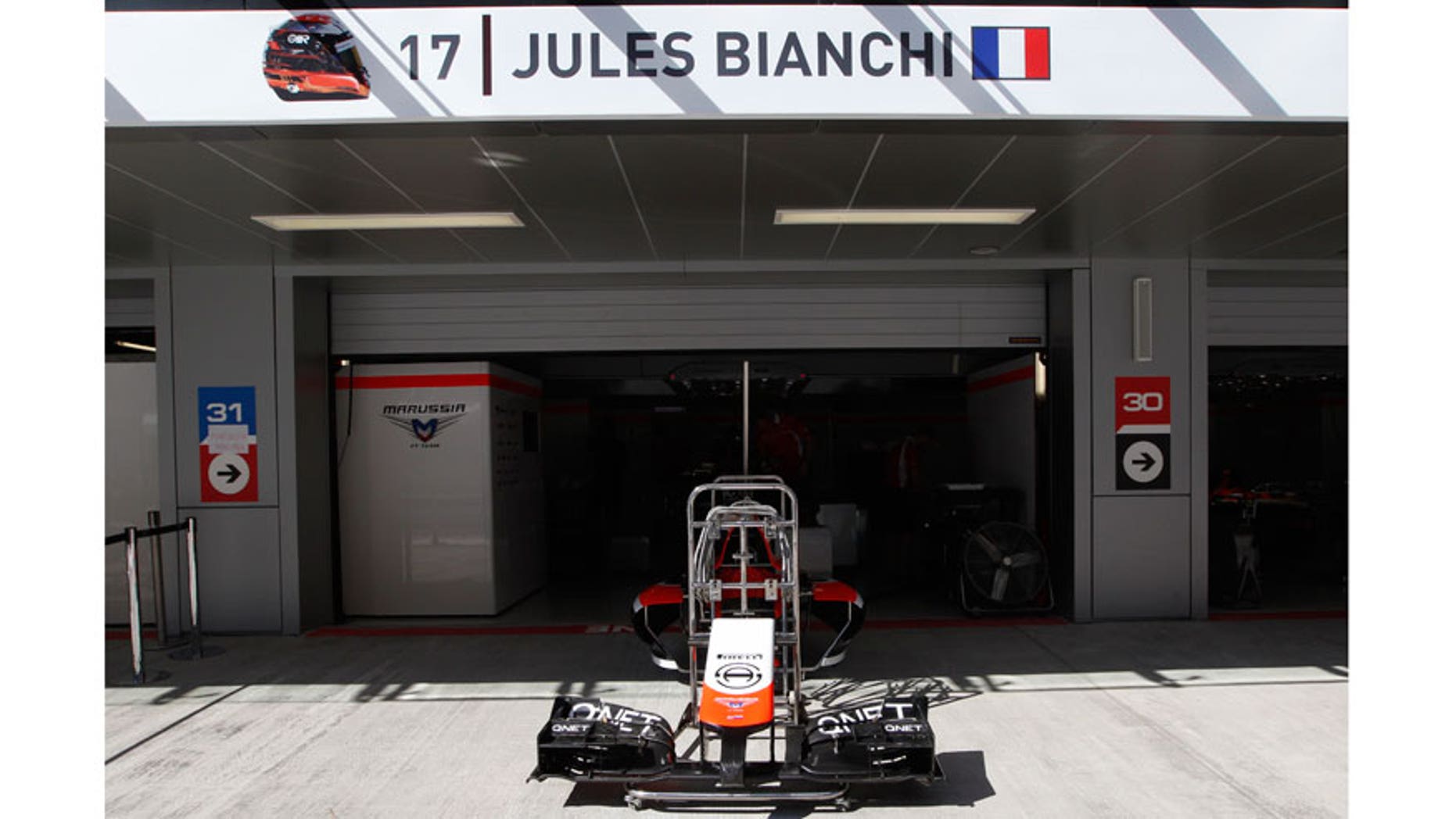 The Marussia Formula One team is running only one car at the inaugural Russian Grand Prix this weekend as a sign of respect for injured driver Jules Bianchi.
The 25-year-old Bianchi suffered a severe head injury at last Sunday's Japanese Grand Prix in Suzuka and remains in critical condition in a hospital in Japan. His car rammed into a crane picking up another car that had skidded off the course in wet conditions.
"Notwithstanding the presence in Sochi of Alexander Rossi, the nominated official reserve driver for the 2014 Russian Grand Prix, the team feels strongly that fielding a single car, that of driver number 4, Max Chilton, is the appropriate course of action under the difficult circumstances of the weekend," Marussia said in a statement.
In the meantime, speaking to local newspaper Nice Matin in France, Bianchi's father Philippe said his son's condition remains critical at Mie General Medical Center.
"There was no noteworthy change (in his condition)," Philippe Bianchi said. "Jules is fighting as he always did, the same way as if he was racing. He is strong."
To honor Bianchi, Marussia said his car will remain in the team's garage at the Russian Grand Prix.
"In support of Jules and his family, the team and their cars will carry the familiar #JB17 graphic, to ensure that although Jules is not with them in Sochi this weekend, he is, nonetheless, racing on with the Marussia F1 Team," a statement from the team read.
Marussia sporting director Graeme Lowdon said it had been "an incredibly difficult week" for his team and the series.
"It has been a really difficult time for the team, but I have to say we have been helped enormously by the Formula One family," Lowdon said. "The main thing we wanted to do was something useful and supportive, as much as we can, for Jules and his family. That was our primary objective.
"But we are also lying ninth in the world championship, which is a very important position for us, and we're largely in that position because of Jules. He is a racing driver and he would want us to do the best we can, so we thought the right thing to do was to come here and take part in the event," Lowdon said.
Bianchi was a member of Ferrari's young drivers program and team chief Marco Mattiacci said it had been an "extremely painful week for all of us in Formula One, but specifically for all of us at Ferrari."
"To go through this weekend, again we are going through a lot of pain, but we are here to race," he said.
Since the Frenchman's crash last Sunday, there has been an outpouring of sympathy and support to the driver, who is regarded as one of the sport's most promising talents. In Sochi, his colleagues are wearing helmet stickers in support.
"I don't know how to put into words how truly devastated I am by what has happened to Jules," said Chilton, Bianchi's teammate. "The support from the F1 family has been incredible and all we can do is be there to support Jules' family at this difficult time. It is going to be a very emotional weekend for the whole team, but we will try to get through it and keep praying for Jules."
Bianchi's car has renewed the debate about security in Formula One and FIA has opened an investigation to shed light on the accident's exact circumstances. While former FIA president Max Mosley called it a "freak accident," four-time world champion Alain Prost said it could have been avoided, saying the recovery vehicle should not have been on the trackside.
"I'm not sure it was a race incident," said Bianchi's father, who refuses to see images of the crash. "To me it looks more like a traffic accident. Depending on what will happen next, I'll certainly have things to say later."