Ken Block burns up Buffalo in wild Gymkhana 9 video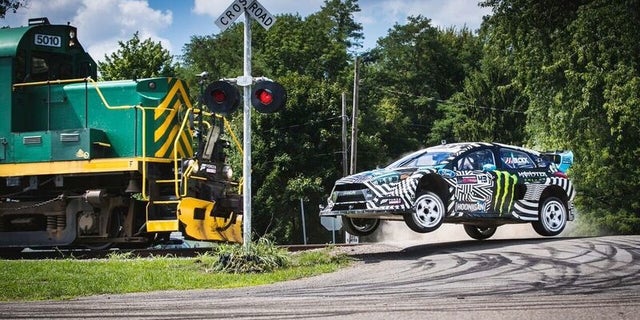 Ken Block is back and he's burning rubber in Buffalo.
The stunt and rally driver's latest Gymkhana video (number nine, for those keeping count) features him performing his regular routine of donuts and drifts around industrial areas of the western New York city in his Ford Focus RS RX.
Block smokes through the abandoned Buffalo Central Terminal, over the South Park Avenue drawbridge – as it's being raised into the air! – almost off a pier, and makes tracks over train tracks just in time to beat a locomotive.
A disclaimer at the beginning of the video makes it clear that all of the stunts were pre-planned and performed on closed and private roads, of course. But while that was good enough for Buffalo, it wasn't for the city Block originally wanted to get crazy in.
According to Jalopnik, the original plan was to film in Australia, in Sydney's Central Business District and on the Sydney Harbor Bridge. The video is a co-production with the Forza Horizon 3 video game, which is set Down Under. But filming permits started getting denied, and the crew was getting corralled onto a less interesting island venue in Sydney Harbor, so they hit the road.
Australia's strict rules against street racing and "hooning" were likely to blame for the change of heart. Laws there allow authorities to confiscate and even crush the cars of offenders and someone apparently realized that having a guy who's company is called Hoonigan Racing glorify that kind of activity right in front of them wasn't going to fly.
But Block sure does.