John Force crashes hard into Jonnie Lindberg at NHRA Arizona Nationals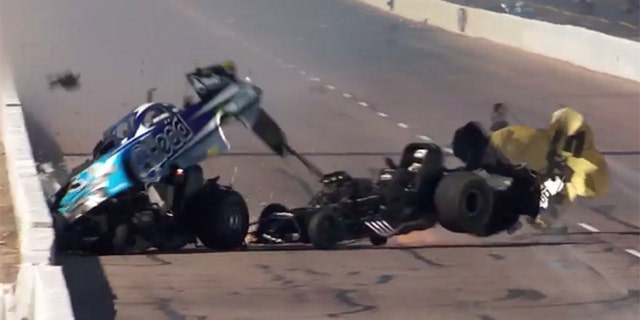 John Force is having a rough start to the 2018 NHRA season.
Two weekends after the 16-time Funny Car champion crashed during qualifying for the Winternationals in Pomona, Calif., and then watched as daughter Brittany wreck at the same event, the 68-year-old collided hard with Jonnie Lindberg at the Arizona Nationals during Sunday's elimination round.
Force blew his engine at the finish line, which ripped the body off his car and caused it to veer into Lindberg's lane. The two cars then hit and got tangled up in their parachutes as they banged down the drag strip. Lindberg's car also lost its body before the two vehicles came to a stop.
Force was conscious and communicating with safety personnel as they helped him out of his car and transported him to the hospital, while Lindberg was able to get out of his wreck on his own.
"I got up and walked away," Lindberg said. "I felt good and the doctors came to my trailer to check me out and told me that I'm good."
The extent of Force's injuries are unknown, but an early report from the NHRA said they aren't serious.
Update: Force was released from the hospital Sunday night. His daughter, Courtney, won the Arizona Funny Car event.
The Associated Press contributed to this report