Jeff Gordon coming out of retirement to fill in for injured Dale Earnhardt Jr.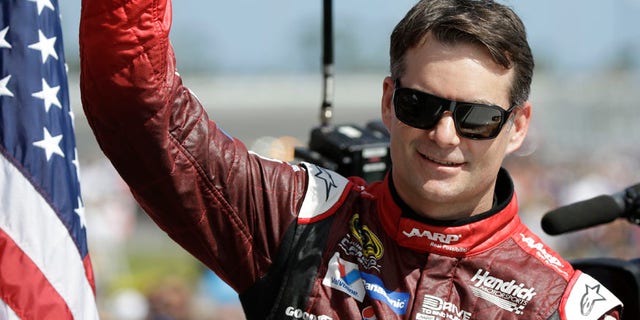 Jeff Gordon is coming out of retirement to fill in for his old Hendrick Motorsports teammate, Dale Earnhardt Jr., in the No. 88 car.
Earnhardt is recovering from concussion-like symptoms in the wake of big crashes at Michigan and Daytona this year. He also sat out last weekend's race in New Hampshire while a member of his JR Motorsports Xfinity Series team, Alex Bowman, took his place, finishing 26th.
Indiana native Gordon will drive in the Brickyard 400 in Indianapolis this weekend, and the Pennsylvania 400 on July 31st. Gordon won the first NASCAR race held at the Indianapolis Motor Speedway in 1994 and took the checkered flag there four more times during his illustrious career.
Earnhardt was evaluated by doctors on Tuesday and not cleared to drive.
"Our focus is giving Dale all the time he needs to recover," team owner Rick Hendrick said. "There's nothing we want more than to see him back in the race car, but we'll continue to listen to the doctors and follow their lead. What's best for Dale is what's best for Hendrick Motorsports and everyone involved with the team. We're all proud of him and looking forward to having him racing soon."
While retirement talk for the 41-year-old Earnhardt might be premature, his history of concussions is clearly a concern. He had two concussions in a six-week span in 2012 and missed two races, and this season he was involved in a 22-car wreck in Daytona and another wreck at Michigan International Speedway. He felt steadily worse, thinking it was allergies at first, and his head injury was confirmed after meeting with a neurological specialist.
Gordon, the four-time series champ and only five-time winner of the Brickyard 400, will make his season debut just a short drive away from his boyhood home in Pittsboro, Indiana. He has not competed since retiring after last year's season finale and has spent this season primarily as a commentator on Fox Sports' NASCAR coverage.
Brickyard organizers had billed last year's race as Gordon's "last ride" on his home track.
But now the 44-year-old Gordon will get one more chance to become the first driver to reach victory lane six times at Indianapolis Motor Speedway. He's also the only Cup driver to win six times at Pocono and has 93 career wins and has made all 797 of his career starts with Hendrick's team.
"Jeff's a team player," Hendrick said. "I know he'll be ready, and I know Dale has incredible trust in him. It's going to be an emotional weekend (at Indianapolis) with Dale not being there and seeing Jeff back behind the wheel. Greg (Ives) and the team did a great job at New Hampshire, and they have the full support of our organization."
This weekend's race is expected the final appearance for another Indiana driver, three-time Cup champion Tony Stewart, who is retiring after this season.
"We wish the circumstances were different, but we're thrilled anytime we see Jeff Gordon on the Indianapolis Motor Speedway oval and know our fans will love seeing him race again," speedway president Doug Boles said. "Between Jeff making a return visit and Tony Stewart making his final Brickyard start, this will be a legendary weekend for Hoosier race fans at IMS!"
The Associated Press contributed to this report