Jeep Wrangler pickup crawling closer to production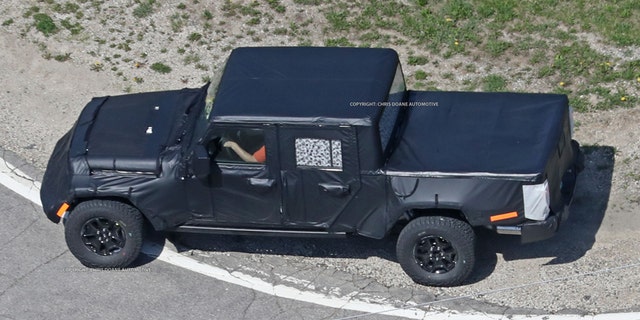 NEWYou can now listen to Fox News articles!
The first new Jeep pickup in over a quarter-century is still a about year away from showrooms, but what appears to be a production ready prototype is already on the road.
The camouflaged Wrangler-based truck caught by a spy photographer at an undisclosed location looks much different than an earlier effort spotted last year.
2018 JEEP WRANGLER REVEALED IN LEAK
Instead of the bed from a Ram 1500 jury rigged to the back of it, the new truck has a perfectly-integrated one with classic Wrangler wheel arches bulging through its black polyester wrap. The bed sides meet the vertical roof pillars at a crisp 90 degree angle for a classic pickup profile, and a full width rear window fills the space between them.
What's not known is if that roof is removable in some fashion, or if the windshield can be folded down like on other Wranglers. But there are holes in the hood wrap where rubber bumpers to rest the windshield on usually are.
BUSTED: 2018 JEEP WRANGLER SPOTTED ON THE SIDE OF THE ROAD
Based on its wheels and stance, this particular truck could be a Wrangler Rubicon-derived model, suggesting that the pickup will offer the same sort of hardcore off-road capabilities as the standard Wrangler, which is expected to go on sale late this year.
The pickup will follow as a 2019 model, and should be available with a choice of engines that include a four-cylinder turbo, four-cylinder diesel and an updated version of the current 3.6-liter V6, with a hybrid model possibly added at a later date.
One engine you shouldn't expect to see on the options list is the 707 hp Hellcat V8 that's soon to be offered in the Jeep Grand Cherokee Trackhawk. Jeep brand boss Mike Manley says it's "incredibly unlikely" to happen, even though the company debuted a Hellcat-powered Trailcat concept this year.
HELLCAT JEEP GRAND CHEROKEE TRACKHAWK IS THE WORLD'S MOST POWERFUL SUV: