Jeep Grand Cherokee Goes Electric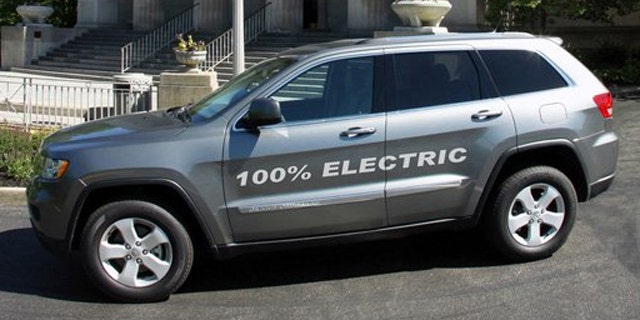 When travelling in the wildernes, responsible adventurers take only photographs and leave only footprints. Soon they'll be able to add tire tracks to that mantra, but even the air will remain as clean as when they got there.
Ohio-based Amp Electric Vehicles is set to introduce a battery-powered Jeep Grand Cherokee conversion at the Detroit Auto Show in January. The SUV will available with all of the features of the conventional model – including all-wheel-drive – but with a zero emissions propulsion system that should meet Mother Nature's approval.
Read our full review of the 2011 Jeep Grand Cherokee
Granted, with a range of just 100 miles per charge, few of these vehicles will ever see the outside of the local shopping mall parking lot, but the potential is at least there. Amp says that a fill-up of its 37 kWh battery pack will take just 3.5 hours at a 220-volt charging station, quite a bit faster than existing electric cars, if true.
The electric Grand Cherokee is based on the Mercedes-Benz ML350 that the company already offers. The two cars are largely identical under the skin, a legacy of the DaimlerChrysler days. Back in 2009, when it was in the limbo Cerberus ownership, Jeep showed a plug-in hybrid version of the Wrangler that had a 40 mile all-electric range, but dropped the program when Fiat took over the shop.
The Amp Grand Cherokee comes with an 8 year/100,000 warranty on its electric drivetrain, and thanks to a close relationship with Jeep, the rest of the vehicle remains covered by its factory warranty.
Pricing has not been firmed up, but Amp says it will be competitive with the Tesla Model S electric sedan, which will start at a base price of $57,400 when it goes on sale next year. Both the Jeep and Tesla should be eligible for a $7,500 federal tax credit and various state incentives available for zero emissions cars.